If You Want to Succeed on YouTube, You Need a YouTube Expert
Find out what working with a YouTube expert can do for your brand.
Are you a business or a brand that wants to release video content but doesn't know how?
Are you tired of wasting time recording videos, editing them, and uploading them to YouTube only to get 10 views (5 of which were from your family)?
You release content, but it doesn't go anywhere. You record videos that don't seem to grab people's attention. You spend a lot of time wondering if this is actually a worthwhile platform to promote your business.
If this sounds like you, then you're in the right place.
Please, Don't Hire Us…
Unless you want your brand to become famous on YouTube.
If you're happy with 10-20 views per video on your channel, we're not going to get along well.
On the other hand, if you're searching for someone to turn your brand's YouTube channel into a revenue generating machine, keep reading.
We help companies build a viewership on YouTube in order to exponentially grow their business. There's a viewership out there who wants exactly what you're selling. But right now, they can't find you.
That's where we come in. Now is the time to jump on YouTube.
Are you ready to take the leap?
What is a YouTube Expert?
So, we keep throwing around the term "YouTube expert". But, what exactly makes someone a YouTube expert? Basically, for one to become a true YouTube expert, they need to have an in-depth understanding of these four areas:
YouTube Strategy
Making your brand go viral on YouTube is more than just throwing some videos online and hoping for the best. To help our clients get the most from their efforts, our YouTube experts have learned how to develop a solid strategy on YouTube.
This includes researching the niche and the competition in order to see what we're up against. Then, our experts come up with relevant topics that your audience will eat up.
A YouTube expert also knows how to use the right video formats for your audience, and how to create a posting schedule that helps build your viewership.
Create Jaw-Dropping Videos
So much more goes into making a video than just pressing "record".
Our YouTube experts know how to choose the right video style for your field. They're also thoroughly trained to add the right music, create stunning intro panels, and add other effects.
A true YouTube expert also knows how to edit your video correctly for YouTube. We know how to adjust the audio, remove background noise, fix any lighting issues, and add snappy jump cuts to remove errors or unnecessary pauses.
Optimize Videos for YouTube
To be a YouTube expert, one also needs to know how to optimize for the platform. When a viewer searches for certain keywords, YouTube provides them with the videos it deems most relevant.
That's why our team includes YouTube SEO experts who are trained to optimize videos so that they get seen by your target audience. A YouTube expert knows how to add the right tags and category, as well as craft a compelling video description that includes links and calls to action.
They also understand how to find the right keywords and include those in the right places. After that, our YouTube experts also create stunning video thumbnails and add your videos to the right playlists.
YouTube Advertising
Finally, a true YouTube expert must understand how to use YouTube ads to grow a channel (and a business). Thankfully, our team includes experts in YouTube advertising. They have experience running effective campaigns, and they know exactly how to record the right video for the right purpose.
We can help you create motivational ads that get people to subscribe to your channel, watch more of your videos, or even buy your products or services directly.
Our team handles each of these four aspects of YouTube every single day, and they're bringing years of experience to the table.
Why Work With a YouTube Expert?
Because now is the time to get your brand famous on YouTube. Your audience lives on YouTube, more than any other social media channel. In fact, over 1.9 billion users visit YouTube every single month.
The platform spreads across all age groups, being used by almost all young adults and even 58% of people over 65.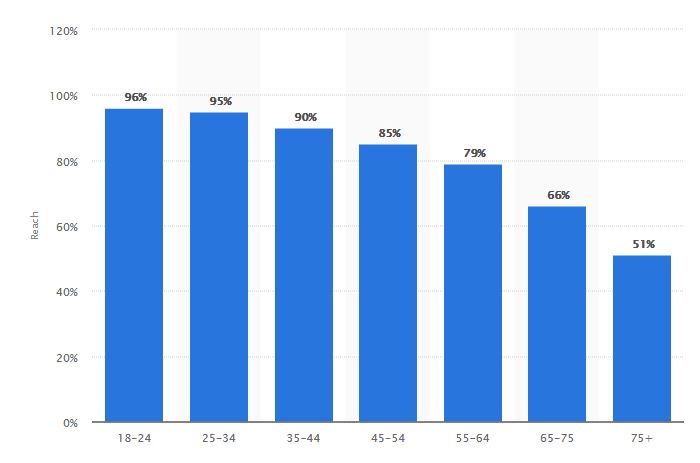 More than that, people are using YouTube to inform their purchase decisions and find new ways to solve their problems. After viewing an ad on YouTube, 62% of people ages 18-34 will take action.
When given the choice of how to learn about a new product or service, 68% of people said video was the best way. And more than 85% of consumers want to see more video content from brands this year. But here's one of the biggest reasons you need to start growing your YouTube channel now: your competition is already doing it.
In fact, in the last two years, the number of small- and medium-sized businesses advertising their brand on YouTube has doubled. Your competitors know that YouTube is one of the best marketing platforms available today.
They're already using it to gain a following and generate more business. This year, marketers almost unanimously agree that the level of competition in video marketing has increased. The need to create, not just videos, but truly outstanding video content has become even stronger.
Here's the point: if you don't start working now to grow your viewership, your competition will leave you in the dust. And to beat the competition, you'll need the help of a YouTube expert.
Don't you think it's time to turn the tables?
How We Apply our Expertise to Growing Your Channel
Our YouTube experts here at Viewership use a process that has been proven to work for our clients. This process gives you the biggest bang for the least amount of effort
Here's how we take your YouTube channel and make it famous:
Step 1: We Give You the Strategy
Above, we mentioned that a true YouTube expert knows how to create a winning strategy for every channel they work with. This is exactly what we'll do for you.
Every month, you'll receive instructions on what videos to record, what style to use, and what kind of schedule will work best for your channel. You'll also get a chance to have your questions answered and dive into your channel's analytics on your monthly coaching call.
Step 2: You Shoot the Videos
This part is up to you, but you won't have to shoot in the dark (pun intended). With a clear strategy already set up for you, all you need to do is record the videos.
If you were planning on spending long hours and hard work in order to get your YouTube channel where it should be, then you're about to be pleasantly surprised. In fact, when you become a client, you could spend as little as 1 hour per month working on your YouTube channel.
After you've recorded your videos, you'll upload them into our client portal, and we'll take it from there.
Step 3: We Take Care of the Rest
At this point, you can sit back and relax. Our YouTube experts will take your video, edit until it shines, and upload it to YouTube. We'll choose the right tags, write a captivating description, and do everything else that needs to be done for optimization.
We can also set up and run successful YouTube ad campaigns that bring in more subscribers (and more leads). Yes, that means you won't have to spend hours reworking your video until it's perfect. You won't have to waste time researching keywords or wandering through the channels of your competition.
Leave it to the YouTube experts.
Let Our YouTube Experts Skyrocket Your Channel
If you want to watch your YouTube channel grow exponentially, gain thousands of new subscribers, and rake in some incredible ROI, you've come to the right place. Our goal isn't just to make your channel better. We won't be satisfied until your YouTube channel has reached its full potential, bringing in the kind of revenue that you dreamed of when you first started.
Our YouTube experts are ready to make that happen. The question is: are you ready to grow your channel and make your brand famous on YouTube?
Complete your free channel audit now, and get ready to watch your channel skyrocket.