Never Let Your YouTube Videos Get Lost in the Crowd
See how our professional YouTube SEO Services make your videos stand out among the competition.
The YouTube gods are hard to please. If you get on their good side, they'll make sure people see your videos. But if you're not working some SEO magic, your videos will get lost in the swarms of other videos being uploaded.
After all, over 300 hours of video is uploaded to YouTube every single minute. In the chaos of video content being created, how will your videos stand out to the people that matter?
Let's say you've crafted the perfect video.
It's the right style to appeal to your audience, plus it's full of excellent content that will keep them watching right to the end. The call to action at the end is inspirational, and it links to your website so that you can drive more business.
But, what happens when you upload it?
If you've gone through the process of uploading videos to YouTube, you know there's a lot more involved than just "making it public" and hoping for the best. The first time you uploaded a video, you probably agonized over finding the right keywords and writing a captivating headline.
You struggled to edit your video thumbnails and spent far too long looking for the "perfect" tags.  You've probably even wondered, "Do these tags do anything?"
By the time you made it to the video description, you were probably about ready to give up. After dealing with that whole process, it may have seemed easier just to upload your next few videos without spending so much time on the optimization.
The Problem With YouTube Video Optimization
Video optimization is time-consuming. But without optimization, your videos will never get seen.
If you've ever uploaded videos without optimizing them, you know exactly what I mean. After all the effort you put into creating and editing these videos, they're nearly impossible to find by searching for your keywords.
You may have to scroll through pages of search results to find them.
YouTube results are similar to Google results in that, if your videos don't appear on the first page, it's unlikely that anyone will find them. But if they are optimized correctly your videos can rank #1 on YouTube for keywords your customers are searching for.
That means your target audience will have no choice but to watch your videos, fall in love with your brand, and earn you the ROI you were dreaming of when you started your YouTube channel.
For this to happen, though, you need to know how to please the YouTube algorithm. That's where we come in.
We've Learned the Secret to Ethically Hacking YouTube
Our YouTube SEO services are exactly what you need to get your videos in front of your target audience.
We've spent years perfecting our process, and we've used our expertise to help major brands become YouTube sensations. It all started with our founder's relationship advice channel Sexy Confidence: this channel started off with just a few views and barely any engagement.
However, using Viewership's YouTube SEO practices, this channel took off. In just a short time, Sexy Confidence was seeing millions of views per month. The videos were more than just viral sensations: they were getting consistent hits over time.
Today, this channel has over 500,000 subscribers and growing exponentially.
But it gets better. The videos that Sexy Confidence produces rank consistently at the top for competitive keywords related to their business.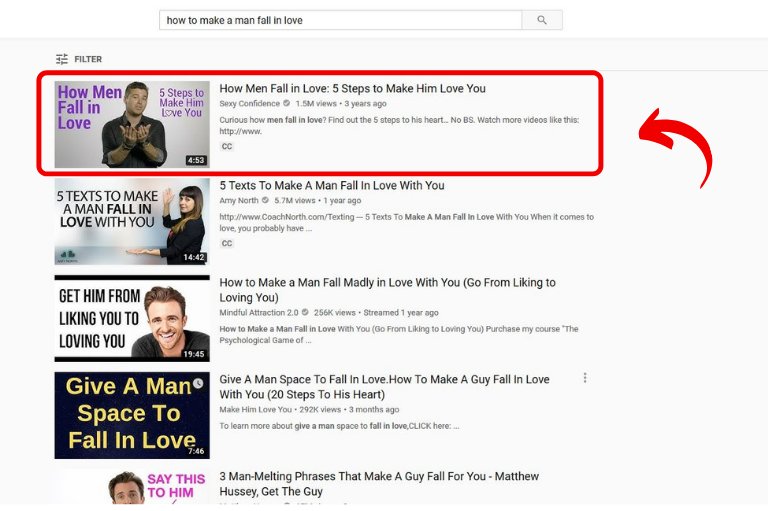 Our YouTube SEO services are helping Sexy Confidence beat their competition and reach an ever wider audience.
So, what about you? How would you like to see thousands of new subscribers streaming to your channel every week?
Our YouTube SEO services follow an established method that allows us to take almost any YouTube channel and turn it into an internet success story. Want to know how?
How Our YouTube SEO Services Skyrocket Your Videos to the Top of the Search Results
Our methods are not left up to chance, but neither are they set by hard rules.
The world of YouTube is constantly changing, and our team rises to the challenge by constantly improving our strategies. Our process is the result of years of research, trial, and error. We've put a lot of sweat and, yes, even some tears into this process so that you don't have to.
In 3 easy steps, you'll go from creating videos that never get seen to releasing videos that get hundreds (or even thousands) of views every single day.
Once you get your free channel audit, this is the process we'll use to make you an internet sensation:
Step 1: We Gain Access to Your Channel
To start, you'll need to give our team of YouTube marketing consultants access to your YouTube channel.
That way, we can manage your YouTube SEO from start to finish. We'll take a look at your channel, your competition, and the right keywords for your specific niche.
All you'll need to do is record your video, and we'll take care of the entire optimization process.
Step 2: We Complete Our 22-Step Proprietary Optimization Process
Our proprietary YouTube SEO process is the result of all our years of experience combined. Plus, we keep adjusting and perfecting this process in order to deliver the best results possible. Here are just some of the things that we'll handle when you use our YouTube SEO services:
Choose a Headline
Optimized headlines help YouTube know what your video is about. Then, the platform will put your video in front of the audience that is looking for your content. But optimizing a headline goes beyond that.
After all, your video headline is one of the first things people will see when deciding which video to watch. We've done the research, and we know what makes people click on a headline. So, we'll create video headlines that make people choose you over other videos. However, we also want your headlines to be true to your content. This means we'll avoid scammy headlines that entice people with fake promises only to disappoint them later.
That way, your headlines will work to improve your click rate and increase the time people spend watching, which are both important factors for YouTube SEO.
Add Thumbnails
Again, when people are deciding which video to watch next, your thumbnail will have an impact on their decision.
The right thumbnail is:
Consistent with your branding
True to your content
Colorful without being overwhelming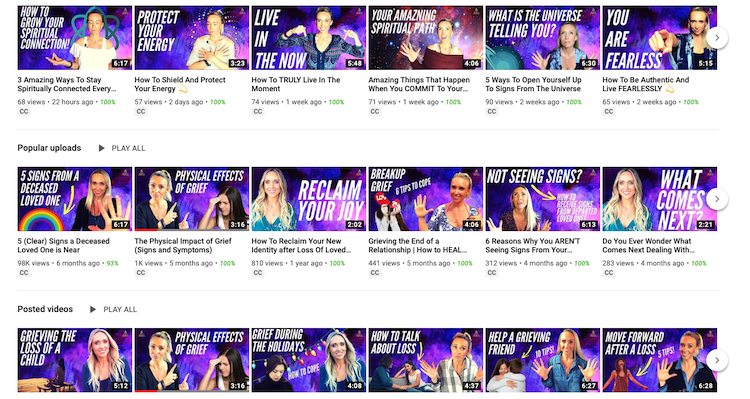 We'll also make sure your thumbnails are optimized for mobile screens.
Pick Perfect Tags
Tags are important because they act as keyword indicators. When you add the right tags, YouTube will present your videos to the right audience. That's why our YouTube SEO services include finding and optimizing for the right tags in each of your videos. We make sure that the keywords we target for your channel are actually possible to rank for. This analysis will be done for you.
Transcribe Videos
Did you know that videos with transcribed captions can get 7.32% more lifetime views than those without captions?
That's why part of our optimization process includes getting accurate transcriptions for your videos. We're not satisfied with the automatic transcriptions made by YouTube (although they are good for a laugh). That's why we get high-quality transcriptions for each video.
Craft an SEO-Friendly Description
Your descriptions are the basis for your video, the best place to repeat your calls to action, and an excellent spot to direct users to the parts of your video they really want to see. Optimizing your descriptions also helps YouTube promote your videos in the right places to the right people.
Add Links Within Videos
Whether it's end screens, I-cards or CTA overlays, using links is an essential part of making your YouTube videos count.
These links are the foundation for all ROI on your channel: this is how you get people from watching your videos to purchasing your products or services. Our professional team of YouTube experts knows exactly when and where to add your links for the most impact.
Optimize for Engagement
The more engagement your videos get, the better your rank will be. That's why our team helps you optimize your channel and create helpful relationships with your viewership.
Whether it's liking and responding to comments or adding survey cards to your videos, we've got you covered.
Translate to Broaden the Audience
A great majority of YouTube traffic comes from countries whose first language is not English. So, why not take your channel global?
Our YouTube SEO services include getting your video captions, titles, and descriptions translated to different languages. That way, you can broaden your audience (and your customer base).
Complete Epic Playlists
Creating playlists with videos on similar topics helps your YouTube SEO in two ways:
First, since videos in a playlist will continue to play automatically one after the other, you'll likely increase your video views.
Secondly, if your playlists are tightly related and fully optimized, you can actually get them to rank in search results for specific keywords!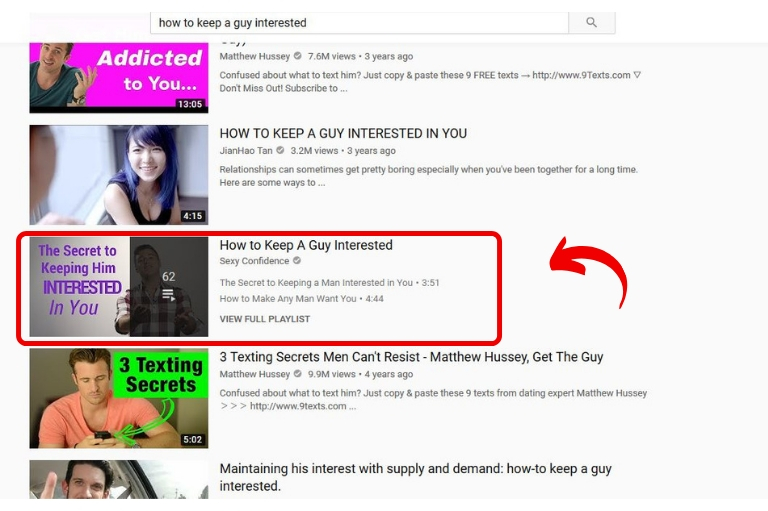 Once your videos have been fully optimized by our team, it's time for the next step.
Step 3: You Release a Perfectly Optimized Video
Yes, it really is that simple!
All you have to do is shoot your videos: we'll handle everything that has to do with optimization. Our YouTube SEO services go from start to finish, tailoring your channel in order to get the best results possible. Once we're done, all you have to do is release a video that is perfectly optimized for the platform, and for your audience.
It's time for you to take the leap.
Our YouTube SEO experts have the knowledge and the skills to take your channel to the next level. All you have to do is get your free channel audit right now.
Then, you'll be lined up to receive all of these benefits…
What Our YouTube SEO Services Can Do for You
Your YouTube channel is a valuable marketing method that can earn you new leads and new revenue consistently over time. All you need to do is get started.
Here's what you can look forward to when using our YouTube SEO services:
Save Valuable Time
We know you can optimize your own videos. In fact, you may have been doing just that up until now. But the fact that you're here reading about our services says something. Even if your optimization efforts are working, how long can you really keep this up?
Between your responsibilities with your business and other necessary commitments, when do you have time to optimize all that video content? Either you'll end up producing less content (which is bad), or you'll stop optimizing your videos (which is worse).
Instead, take advantage of our YouTube SEO services and save the valuable time you should be spending on your business.
Get Your Videos to the Top of the Search Results
The YouTube algorithm is fickle and hard-to-please. But we've discovered the secret to success. It takes years of experience, research, and hard work to truly understand how to optimize videos effectively.
That's why we're offering to put all of our combined experience to work for you and your brand. When you let our experts take control of your channel, you'll release videos that shoot to the top of the results pages every time and earn you thousands (or even millions) of new views.
Grow Your Viewership and Your Revenue
Your audience is out there: they just haven't found you yet. Let us overhaul your YouTube channel and get your audience right where you want them. Once our team optimizes your videos and your channel, you'll see hundreds of new subscribers and thousands of new views every single day.
With the right optimization in place, that viewership will bring new revenue to your business and help you reach the goals you set when you first started your channel.
This is What Life Could Look Like After Working With Us
Imagine releasing a new, optimized video that ranks on the first page of the results. Just think of all the new traffic that could be pushed to your website when your videos rank for competitive keywords.
And your viewership would just keep on growing.
Yes, right now you're putting effort into creating new videos for your YouTube channel. But if you combine that with our YouTube SEO services, you'll be sure your efforts are worthwhile and your videos will reach their full potential.
Get your free channel audit today and find out just how valuable your YouTube channel could be.