When it comes to growing your channel, knowing how to build a YouTube audience is equally as important as creating great content. Your viewership is one of the most powerful assets in your business. Without viewers, you will not succeed on YouTube. After all, what's the point of making videos if no one is there to see them?
This post will teach you the basic steps and useful hints for audience development. Let's discover how to build a YouTube audience that is engaged, interested, and continuously growing.
This article will teach you everything you need to know about getting more subscribers and growing your YouTube channel. Continue reading or click one of the steps below to jump to that part of the post.
YouTube audience statistics and facts
How to build a YouTube audience in 12 steps:
1. Create top quality content
2. Optimize for your audience, not views
3. Use great branding techniques for your channel
4. Customize your thumbnails
5. Promote your videos on other platforms
6. Create a channel trailer to show your audience what you're all about
7. Be the face of your brand
8. Develop a video publishing schedule
9. Partner up with other influencers to spike channel interest
10.Use powerful calls to action
11. Build a community around your channel
12. Use the basics of YouTube video SEO
Conclusion
YouTube Audience – statistics and facts
YouTube is, by far, the biggest video sharing platform around. It offers many opportunities for content marketers and business owners alike. With over one billion users and counting, YouTube is home to every type of audience. And that means that every type of business can benefit from it!
Here are some stone-cold facts about YouTube and its users: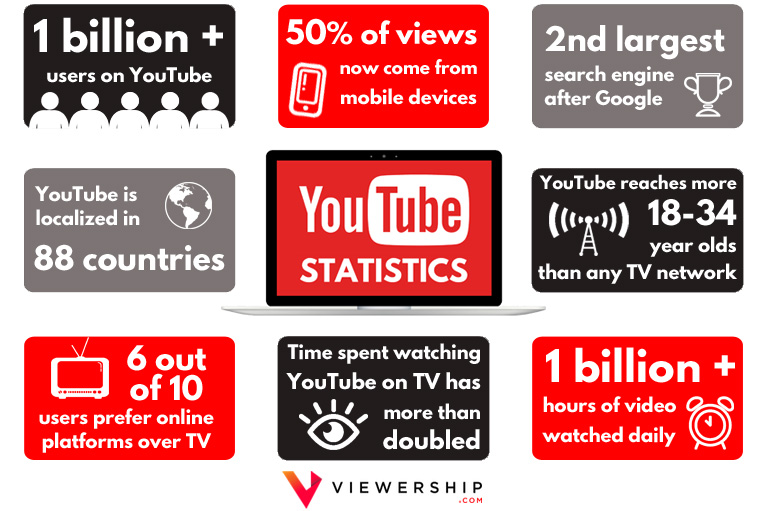 How to build a YouTube audience in 12 steps
1. Create top quality content
The first step to learning how to build a YouTube audience is to create the kind of content that keeps viewers coming back for more.
Think about it. Would you go back to a restaurant that cooked terrible food? Or return to a hairdresser who gave you an awful 'do? The same rules apply on YouTube. It's simple — in order to grow your viewership, you need to create high-quality content that outshines your competition.
When I say "quality", I'm not talking about having the best camera or sophisticated software. Sure, you need a reliable setup when making YouTube videos, but that alone won't build your audience.
You need to create content that does better than what's already out there. Viewers are looking for someone who can satisfy a need — a need for information, entertainment, escapism, and all the rest of it. Get noticed on YouTube by providing content that is engaging, valuable, and useful. Here's how to get started:
Keyword research

— You won't attract the right viewers if you don't research your keywords. Use good YouTube SEO tactics and include keywords in your content. Google AdWords

Keyword Planner

will help you.

Check out your competition

— Explore other channels in your industry to get an idea about the type of content that your audience is interested in.

YouTube analytics

— As your audience grows, be sure to check the

Analytics

on your page. This is how you can keep track of what's working and what's not.
A quality message is more important than quality equipment. Whether you're using a 4K camera or a smartphone, you can create awesome content and start building an audience on YouTube.
Click here to see more tips about making top quality YouTube videos.
2. Optimize for your audience, not views
At Viewership, a lot of our clients first come to us with the question, "How can I get millions of views per month?". But they're focusing on the wrong thing. In order to succeed on YouTube, you shouldn't be asking how to generate traffic, but rather how to build a YouTube audience.
"Aren't they the same thing?" Let me explain. Yes, traffic is great. So are views. And in creating your top quality videos, you should be able to improve both of these things. But optimizing your content with the goal of generating more views doesn't necessarily come with a long-term benefit.
The advantage of optimizing for your desired audience is that you will be building a stronger channel for the future. Give yourself a better chance for YouTube success by using a consistent video strategy that focuses on viewer experience and customer satisfaction.
3. Use great branding techniques for your channel
Making your channel look visually appealing can seem like a low-priority task. But remember, humans are visual creatures. If you want to know how to build a YouTube audience and attract more subscribers, you've got to look the part.
Branding your channel will make it look more professional, cohesive, and recognizable to visitors. Think about your brand — the logo, colors, font, slogan, and overall style that you use on your website and marketing materials. Your branding should appear consistently in all aspects of your business and across your channel. This includes:
The name of your channel. Make sure you have

set up a brand account

on YouTube.

Your channel icon (the small profile picture).

Your

YouTube channel art

(the banner artwork that appears over your channel).

Each video thumbnail (more on that next).

Channel description (mention what inspires you and why visitors should subscribe to you).

Video descriptions (be sure to include a link to your website).

Branding watermark

(a custom subscribe button that you can add to all of your videos, as you can see below).
The goal with good branding techniques is to ensure YouTube users can recognize, at a glance, that your content belongs to you. Branding yourself on YouTube will allow you to establish your identity and give your channel strong foundations for its future growth.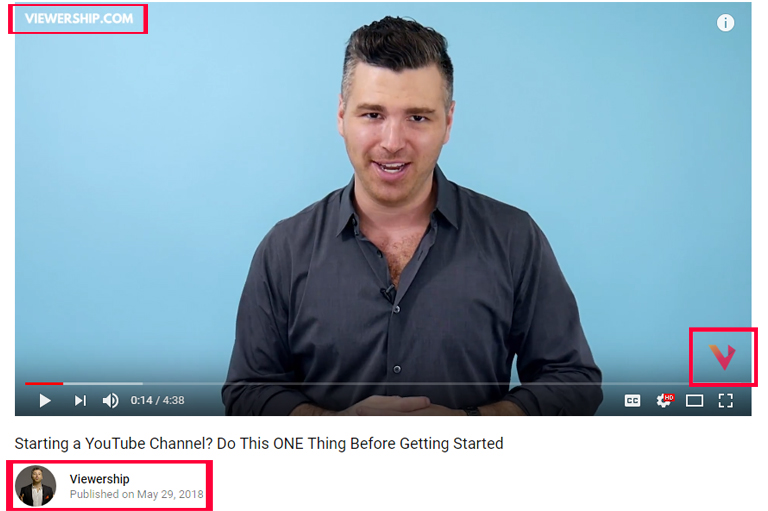 4. Customize your thumbnails
As mentioned briefly above, your branding should carry across every one of your videos — and that means creating customized thumbnails.
The thumbnail is one of the first things a viewer will notice about your video when they see it in search results or suggested lists. When done well, a custom thumbnail can help to build anticipation for your content, attract fans to your channel, and make your videos more appealing.
Learning how to customize your YouTube thumbnails can have many advantages for your channel:
Creating branded thumbnails can help viewers to immediately recognize videos as being from your channel — which is a great way to attract returning viewers.

Custom thumbnails can give your channel a more authoritative, professional appearance — which is a great way to attract new subscribers.

A custom-made thumbnail can improve the click-through rate of your videos. According to YouTube,

90 percent of the best performing videos

have custom thumbnails, which promote the brand and capture attention.
Make sure your thumbnails give viewers valuable information to help them decide if the video is right for them. This can improve your retention rate (people who click the video are more likely to watch until the end, which is a positive ranking factor on YouTube and Google.
A big part of learning how to build a YouTube audience is simply finding ways to be noticed. The more you can do to stand out, the better. Start creating custom thumbnails for your videos — they will play a significant role in getting your content seen by the right people.
5. Promote your videos on other platforms to increase your audience
Ever wondered how to spread YouTube videos to a wider audience? You need to start promoting your videos outside of YouTube. There are many different platforms and audiences to target. Here are a few ideas:
Send to an email list

— Email marketing is direct, personal, and one of the best ways to spread new videos. Offer an incentive (exclusive content, free downloads, access to giveaways) to compel people to sign up to your email list. Then send an email each time you upload a video.

Share on social media

— Have you got social media accounts for your brand? Use them! Promote your videos on platforms like Facebook, Instagram, Pinterest, Twitter and LinkedIn to make your content more relevant and accessible.

Embed in blog posts

— Improve video views and site traffic simultaneously by embedding your YouTube content in your blog posts or landing pages. Be sure to write valuable, keyword-rich content to ensure people can find you online.

Share on social bookmarking sites — Add more social signals for your videos by sharing them on websites like StumbleUpon or PearlTrees. The more eyes you can get on your video, the more likely you are to attract subscribers.
Write answers on Q&A sites

— Q&A websites like

Quora

are an excellent place to attract information-seeking viewers. Search for relevant keywords, find popular questions, and write a knowledgeable answer that includes a link to your video.
Building your YouTube viewership is about creating quality content and sharing it with the world. Get people to visit your channel and hit that subscribe button by cross-promoting your videos in as many places as possible.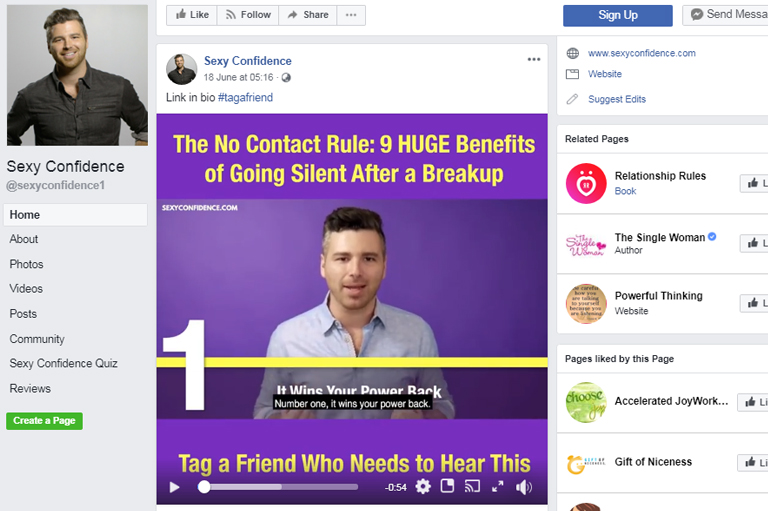 6. Create a channel trailer to show your audience what you're all about
A YouTube channel trailer is a welcome video that appears only to unsubscribed viewers. That makes it an ideal opportunity to create a lasting impression and entice people to subscribe to your videos.
Here are a few tips about producing a captivating channel trailer:
Keep it short and snappy. Highlight the best parts of your channel with a few key messages and/or content previews.

Assume the viewer is meeting you for the first time. Be welcoming as you show them who you are, what you do, and what you're most passionate about.

When it comes to video consumption, people don't have the longest

attention span

. It's important that you hook your viewers in the first few seconds of the trailer.

Use verbal CTAs (calls to action). In other words, speak plainly! Ask viewers to subscribe (and make clear how they will benefit from subscribing to your channel).
The channel trailer plays a significant role in getting more subscribers and establishing your brand on YouTube. If you're not seeing the desired results from your channel trailer, you can always make a new one! Or try making small changes — add a new CTA, or shoot a different intro, and so on. Whatever you do, don't disregard the trailer. It can be a powerful influencer when learning how to build a YouTube audience.
Click here to learn how to add a channel trailer.
7. Be the face of your brand
Are you ready to hear one of the biggest secrets to YouTube success? Here it is: authenticity. To grow your audience on YouTube, you need to put yourself in front of your viewers and allow them to connect with you directly. This is particularly important if you are creating tutorial videos, coaching, vlogging, or becoming a solopreneur on YouTube.
You are the face of your brand. Showing your face and using your own name can help viewers feel more connected to you. You might also benefit from using your headshot as the channel profile icon, instead of a brand logo.
Additionally, speaking directly and genuinely to the camera will help to engage your audience and create an authentic connection. Let your passion shine through each video! This can seem a bit daunting at first; it's normal to feel nervous when you first start making videos. Check out my other article for some advice about being more confident on camera. Remember, an important factor in learning how to build a YouTube audience is being an authentic brand that people can rally behind.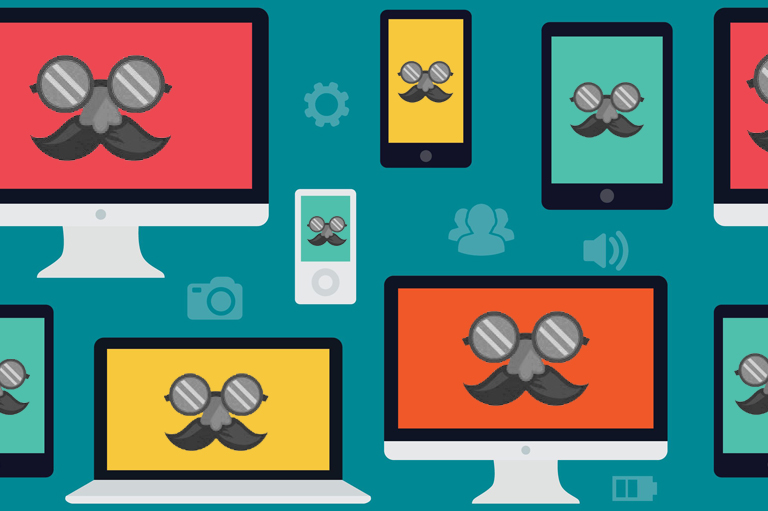 8. Develop a video publishing schedule
Consistency is important in all aspects of YouTube. One way that you may be able to attract viewers to your channel is by establishing a regular video publishing schedule.
Developing a video routine is a big part of growing your viewership. It can help keep your channel in the forefront of viewers' minds, and let them know when to expect new content. Aim to post videos at set intervals (such as twice a week or once a fortnight) or on specific days (like every Sunday).
Your publishing schedule is likely to differ depending on the type of content you produce. For instance, a vlogger may find it easy to post daily videos, while somebody producing tutorials would find it impossible to produce valuable videos at the same rate.
Don't worry if it takes you a few months to develop a routine. It will take time for you to determine how many videos you can produce reliably. Remember to keep track of the entire creation process. This includes how long it takes you to research ideas and keywords, write a script, capture footage, edit, upload, and optimize the video for your audience.
If possible, you could try to create a backlog of videos before you set up your channel. This can be a good safety net for unforeseen situations where you are unable to produce a video; however, don't work too far in advance. Give yourself the leeway to respond to trends and improve your content using data from YouTube Analytics.
When it comes to learning how to build a YouTube audience, remember: you want your viewers to anticipate your next video like they do the episodes of their favorite show! Don't let them down — develop a schedule and stick to it.
9. Partner up with other influencers to spike channel interest
Working with other channels on YouTube is essential for audience growth. There are several different ways that you can do this, and many benefits that come with them:
Partnering with other YouTube influencers is excellent for

cross-pollinating your audiences

. In other words, both you and the collaborating channel can gain exposure to each others niche and attract new subscribers.

Approach micro-celebrities or notable figureheads on YouTube for entertainment and distribution advantages. Working with people who have a significant following on YouTube, Instagram, Twitter and so on will help you to engage with viewers on multiple platforms.

Interview or feature popular YouTubers in your content. Videos that directly interview other influencers, critique their opinion, or otherwise add to their conversations have a good chance of ranking higher. That's because they can appear in search results or suggested content alongside that YouTuber's own videos.
Combine your expertise with other content creators in your industry to cross-promote your videos and gain access to different YouTube audience demographics. When done right, partner videos will be a win-win for all involved.
10. Use powerful calls to action
Learning how to build a YouTube audience means understanding where and how to use CTAs (calls to action). CTAs are text, images, buttons, or other prompts that elicit action from your viewers. Experiment with different CTAs to drive engagement with your audience.
As mentioned in Tip #6, verbal CTAs can be highly effective. When shooting your footage, be sure to compel viewers to like, comment and subscribe.

Add

cards

to guide your audience. Cards (see example below) can enhance user experience with contextually relevant information. Create cards that drive users to a blog post, landing page, another YouTube channel, video or playlist, poll, and more.

Encourage longer consumption and retention rates by linking to other relevant videos on your channel. You could do this with cards in the video or links in the description.

Again, emphasize your CTAs verbally. For example, let's say that in your video about Topic A, you briefly touch on Topic B. If you already have a video all about Topic B, tell your viewers ("Learn more about that in my other video") and make the card appear at the right moment. Your viewers will see a teaser at the time that you designate.

Remember to check your analytics to identify your best performing videos. You may be able to improve the effectiveness of your CTAs by placing sponsored cards and

end screens

on videos with higher retention.
It is vital to include different types of CTAs when building your audience. Whether you want people to subscribe to the channel, engage with your brand, or watch more content, using CTAs ensures your viewers know exactly what action to take next.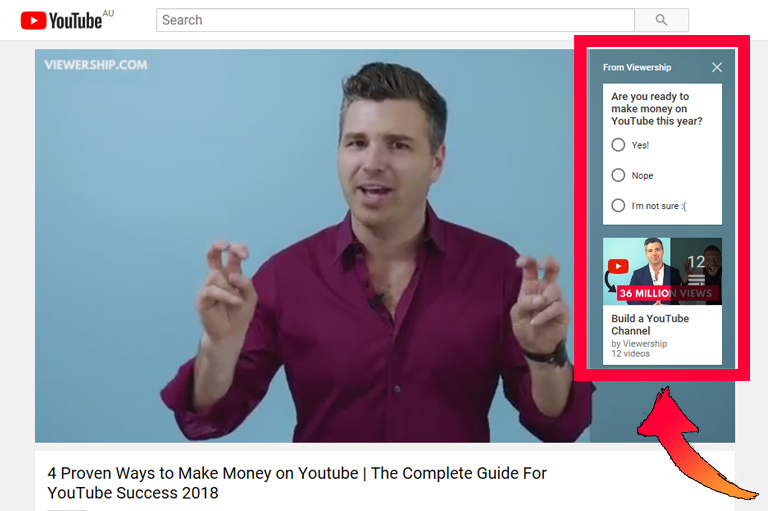 11. Build a community around your channel
People like to feel that they are a part of something bigger than themselves. Much of YouTube's popularity is the sense of community that it fosters. YouTube can offer a connected experience —  to grow your viewership, you will need to establish a close-knit, active community.
YouTube subscribers appreciate content creators who listen to, interact with, and create videos in response to their fans. I'm talking more than just replying to the occasional comment; if you want to see how to build a YouTube audience, you must connect with your viewers and get to know them. In fact, 4 in 10 millennial subscribers say their favorite YouTube stars understand them better than their friends.
Here are some ideas for you:
Ask questions and encourage video replies. Find out what your viewers liked about the video, what they need help with, what their personal experiences have been with regard to the subject matter, and so on.

Inclusion will play a significant role in developing your audience. Some YouTubers like to have a special name for their viewers as part of their branding. For instance, on my other channel

Sexy Confidence

, I call my viewers "sexy single ladies". The best names will come naturally, so don't force it.

Ask viewers to leave suggestions in the comments or on your social media for content they would like to see. And more importantly — actually create that content! This sort of two-way interactivity can give your audience a greater sense of connection with your channel.
From the moment you set up your YouTube channel, you should be interacting with your subscribers and encouraging community engagement. If you establish a community around your channel, you can attract a more passionate viewership and get better results on each new video.
12. Use the basics of YouTube video SEO
If you want to grow your viewership, you need to ensure people can actually find your content. You can do this by consistently using good YouTube SEO tactics, which will improve your search rankings and put your content in front of the right audience.While there are many different ways to enhance the searchability of your videos, you should first nail the basics: the title, description, and tags.
Title
The title is the first thing a person will read when they see your video. That means it is the perfect way to lure your viewers in and provide insight about your content. Take the time to think about your titles; they could be the solution to getting a viewer to click your video instead of the one above it. Here are some quick tips:
Your title should be short and snappy; keep it

around 60 characters

to ensure it is seen in its entirety.

Use keywords to help users search for your content and understand what it is about.

Include the most important keyword (what is the main topic, summed up in a few words?) at the beginning of the title.

Write a title that is compelling but honest. Avoid using

misleading, clickbaity, or over-sensational titles

that don't accurately represent the video.
Description
YouTube's search-and-discovery system helps viewers find what they want to watch, while also helping you to connect with engaged, interested subscribers. A significant source of information for YouTube's algorithm is the video description.
Writing keyword-rich descriptions will help convey valuable details and improve your discoverability on YouTube. You could choose to include a transcript of your video, or write a blurb that summarizes the topic. Keep the following points in mind when writing descriptions for your videos:
Include primary keywords, secondary keywords, and long-tail keywords in your writing. Avoid

keyword stuffing

; that's when you shove so many keywords in there that the whole thing becomes incoherent. Be sure to write full, informative sentences that only use the keywords where needed.

Prioritize keywords in the first few lines. YouTube will truncate your description to a "show more" button after the first two or three lines.

Include CTAs, such as a link to your website, social media, merchandise suppliers, or other videos. You should also prompt readers to subscribe to your YouTube channel and email list.

There is no set word limit for video descriptions. I recommend writing around 200 words; that will give you plenty of room to write good, keyword-rich information.
Tags
YouTube tags are similar to the hashtags you see on Twitter or Instagram. They can help to improve the ranking and visibility of your videos. When writing tags, put yourself in your audience's position. What words and phrases might they use when they're looking for your type of content? Use these as tags for your video.
If you're struggling to write video tags, go back to your keyword research notes and brainstorm ideas. You can also type your keywords into Google; the "related search" suggestions at the bottom may have useful tag ideas. Finally, take a look at your competitor's videos. Using similar tags may help you to attract their audience.
Conclusion
Whether you've had your channel for a while or you're just starting out, trying to get recognized on YouTube can sometimes be a bit disheartening. But you've got to stick with it! Perseverance will play a huge role if you really want to discover how to build a YouTube audience.
Using the tips above and other good YouTube marketing tactics, you can start to produce more compelling video content, enhance your brand, and grow your audience on YouTube. And if you want to learn more and become a YouTube pro, don't forget to register for my free webinar. I have a bunch more expert-proven tips to share with you!
What sort of methods have you tried to grow your viewership on YouTube? Feel free to share your advice below to help others learn how to build a YouTube audience of htheir own. Got some questions? Let me hear them in the comments!