Video has become the hottest trend in digital marketing, and people know it. Businesses, big and small, are starting to set up YouTube channels to grow their brand and attract a modern audience. But if you want to get noticed, you need to know how to promote your YouTube channel to the masses.
There is a lot of fierce competition on YouTube. You might be putting a lot of time, effort and resources into creating amazing videos, but do you know the tips and tactics to promote your channel?
Never fear — Viewership is here! I'm about to tell you 13 effective ways to promote your YouTube videos and gain more subscribers for your channel. Stick around!
How to Promote Your YouTube Channel: 13 Expert Proven Tips
1.
YouTube SEO: get your videos ranking in search engines
Promoting your YouTube channel begins from the moment you set up your account. You need to get your YouTube SEO right. That means optimizing your YouTube channel and each video you upload.
There are many different techniques to improve your search rankings. But if you want to know how to promote your YouTube channel using the best SEO tactics, there are a few things you MUST do:
Optimize your channel
Before you learn how to promote your YouTube channel, it is crucial that your channel is ready to be seen! Make sure you can tick the following off your to-do list:
Add channel description
The channel description is your opportunity to tell people who you are, what you do, and what value people can gain from your videos. Whether you're educating, entertaining, or sharing your unique message, your channel description allows you to clarify your point of difference. Tell potential viewers why they should subscribe to your channel!
Make it consistent
How well do you know your brand? When discussing how to promote your YouTube channel, it is vital that you have a strong brand identity. YouTube is a great place to establish brand recognition. Ensure the same brand elements (logos, colors, fonts, etc.) appear consistently across your channel. This includes your YouTube icon, channel art, and video thumbnails, as well as your website, social media profiles and other marketing materials.
Include contact details
Share your business email address, website, and other contact details to encourage communication between your business and your subscribers. Enable people to send feedback, ask questions, or engage with your brand through your other marketing channels.
Add a channel trailer
Upload a channel trailer to connect with unsubscribed visitors. These autoplay videos are designed to grab attention and give viewers an idea about the content your channel produces. Consider it the movie trailer for your YouTube brand. Use it to show off the best bits of your channel, but leave your viewers wanting more!
Do keyword research
Come up with great video topics by doing your keyword research and identifying the subject matter your audience is interested in.
If you have a broad area of interest (such as digital marketing, cooking, photography, and so on), you can use Google to refine your research and provide specific ideas. Check the bottom of the results page for Google's "related search" field. This can be a great place to find highly sought-after keywords.
Once you think you have come up with the perfect video topic, do a Google search for it. Do your keywords bring in a lot of video results, and not just text listings? This is a good indicator that your chosen keywords will work well to improve your channel's search ranking.
Google AdWords Keyword Planner is handy for finding variations of your keywords. Try using this tool to brainstorm topic ideas and research keywords. Find the sweet spot between high search volume and low competition. That will indicate that your keywords are popular, but are less competitive to rank for. Fill a need and appeal to new viewers!
Include keywords in your video
YouTube's search-and-discovery system takes information from multiple places when sorting videos into search results. Try to include keywords and important information in the:
Title of your video (more on that next).

Video thumbnail (we'll talk more about that later, too).

Video description and

 tags.

Playlist description (and yes, we'll be looking into playlists further down as well!).

Channel description on the "about" page.
YouTube SEO is a crucial part of learning how to promote your YouTube Channel. Optimize your channel and create keyword-rich content to increase your subscribers and start climbing the Google rankings.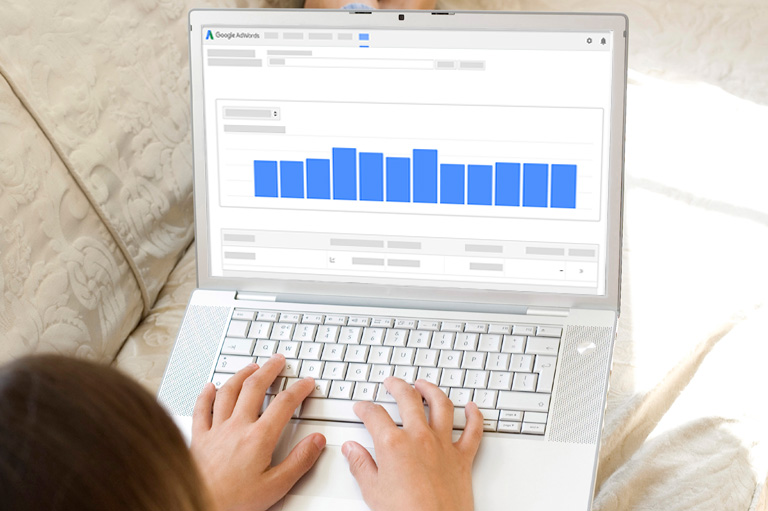 2. Give your videos an irresistible title
When people are searching for videos on YouTube, the two main components that will grab attention their attention is the video thumbnail and the title.
The title is the first thing a person will read when they find your video. If you want to know how to promote your YouTube channel, you need to be able to write engaging, interesting titles for each of your videos.
Here are some tips for writing great titles:
Keep it short

— Limit your titles to approximately

70 characters

in length. Google will truncate anything longer than this in search results.

Include keywords

— The video title is one of the most prominent places for keywords to come into play. Use primary keywords to write a concise yet informative title.

Be compelling

— Write a title that is descriptive, attention-grabbing, and catchy. Prioritize keywords in the first half of the title to provide clear insight into the video topic. But also try to share your enthusiasm for the subject matter at hand.

Avoid clickbait

— Be careful not to tread into "

clickbaity

" territory. Clickbait titles are typically over-sensationalized, misleading statements used to incite curiosity. Using clickbait can damage your brand and erode the trust between you and your viewers. People might be interested enough to click the video, but they are likely to leave quickly if your content doesn't come through on its promise. This will result in low

watch times and retention rates

— a big red flag for YouTube.
3. Use attractive and compelling thumbnails
YouTube thumbnails are often the biggest influencer for whether or not a potential viewer clicks through to your video. The title and the thumbnail work together to build anticipation, attract fans, and make your videos more appealing.
Creating custom thumbnails has many advantages for your videos:
Enhance your channel with a more professional, polished appearance.

Improve the click-through rate

of your videos.

Attract attention from the right audience and earn a better retention rate. An effective thumbnail will give people an idea about your subject matter; thus, those who click your video are more likely to stick around till the end.
Discover how to promote your YouTube channel with custom-made video thumbnails that reinforce what your content is all about. Here are some quick tips about the design and dimensions of your video thumbnails:
YouTube thumbnail size is 1280 x 720 pixels.

Save as JPG, GIF, BMP or PNG.

Make as high resolution as possible (without exceeding the 2MB limit).

Try to use the 16:9 ratio; this is most common in YouTube players.

Make it as eye-catching as possible with creative use of color, close-ups, and text.

Remember that the thumbnail will appear small on mobile devices. Ensure all text and graphics are clearly visible.

Brand your content with your logo, your own photo, and other branding elements.
You don't need to be a graphic designer to make custom thumbnails. Online design tools like Canva or Adobe Spark will make the job easy.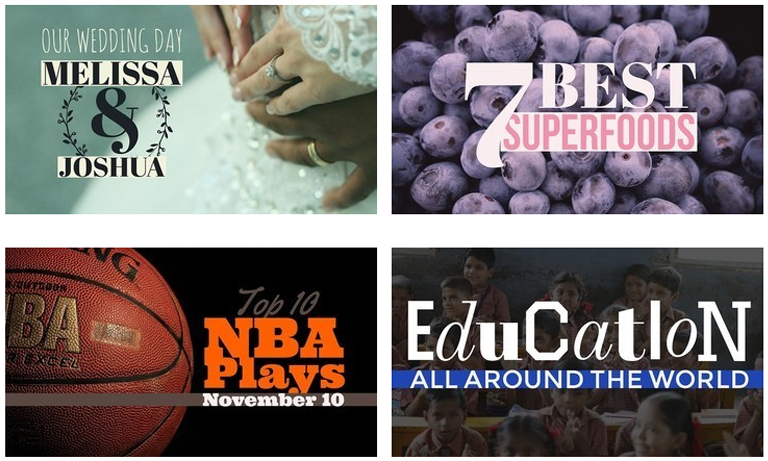 4. Use clear CTAs
Knowing how to promote your YouTube channel with CTAs (calls to action) is an effective way to get people to subscribe to the channel, watch more videos, leave a comment, or share your content with others.
There are a few different ways to include CTAs on your channel:
Spoken in the video — Get into the habit of concluding your videos with a simple message, thanking viewers for watching and encouraging them to share their thoughts, drop a like, and subscribe to the channel.
Cards and end-screens — Add

cards and end-screens

to your videos to prompt action from your viewers. These high-impact CTA features can promote your brand, website or merchandise, direct viewers to other videos or playlists, and call for subscriptions.

Video description – The description of your videos plays a significant role in promoting your channel. Don't be afraid to write detailed, keyword-rich content to help improve your ranking. Meanwhile, try adding CTAs towards the beginning and end of your video description. These could be links to your website or online store, links to related videos, reminders to subscribe, links to your social media profiles, and so on.
As with virtually all other marketing efforts, it is vital to include calls-to-action when promoting your YouTube channel. Whether you want people to subscribe, view more content, share your videos or engage with your brand, using CTAs ensures your viewers know exactly what action you want them to take next.
5. Get the word out with email marketing
If you want to know how to promote your YouTube channel for free, you can't go past email marketing. Promoting your videos to your email subscribers will allow you to directly and personally connect with and alert your audience to new videos.
If your business already has an email list, send out an email as soon as possible after uploading new content to boost your views and reach a wider audience. If not, start using your YouTube channel, website, and social media to get people to become an email subscriber. Try offering an incentive to hook customers in and build a substantial email list for your brand!
You don't want to rely on YouTube subscriptions alone when it comes to notifying people about new videos. Email is the "number one direct channel" for personal and marketing communications. Practice how to promote your YouTube channel through email marketing to achieve better video views and conversions.
(Here's a handy hint: keep it simple and include the word "video" in the email subject line. Studies have shown that this can increase open rates by up to 19 percent!)

6. Engage with your community
YouTube is a social platform. If you want to find out how to promote your YouTube channel and become a star, you must engage with your audience and foster a sense of community. There are many ways for you to be an active presence on YouTube:
Respond to comments

left on your videos, answer questions, and click the heart icon on your favorite remarks. Respond to

both positive and negative comments

; this will show that you are attentive to what your audience has to say.

Subscribe to other users' channels

and leave your own comments to show that you are an active participant in the YouTube community.

Create Q&A videos

to allow your viewers to directly contribute to your content. Create content that shows people their voices are being heard.

Run giveaways and contests

to reward existing subscribers, attract new viewers, and build a viewership of loyal, interested followers. (We'll talk more about this further down.)

Collaborate with other content creators

to expose your videos to a new audience and climb higher in search rankings. (More on this down below, too.)
Ensure your engagement is genuine, valuable, and timely. Remember that YouTube is a multi-directional platform; there should be give-and-take. Don't talk at your audience, talk with them, and show your community that yours is a channel that will connect with them.
7. Advertise your YouTube channel
Using YouTube advertising can enable you to promote your YouTube channel to targeted groups of your audience.
I've covered everything you need to know about the different advertising options on YouTube in this article. But here are a few useful tips on how you can pay to promote your channel with YouTube advertising.
Shorter ads typically have better view rates than longer ads. Aim for 20-60 seconds for most types of video ads.

First impressions matter. If too many people are rushing through your TrueView skippable ads, try changing just the

first five seconds

.

Remember the importance of CTAs. Make clear to the viewer what they should do next, whether you want them to subscribe, visit your website, share your content, or make a purchase.

Using TrueView in-display ads (otherwise called video discovery ads) can be a great way to promote your existing videos. Make sure your content is well-optimized and caters to the needs of your audience.
When you are ready, you can start running a Google AdWords campaign to improve your video marketing, accelerate your channel growth, and get your videos seen by more people. And the best part is that you can set your own budget. Pay to promote your YouTube videos and stick to the costs that are right for your business.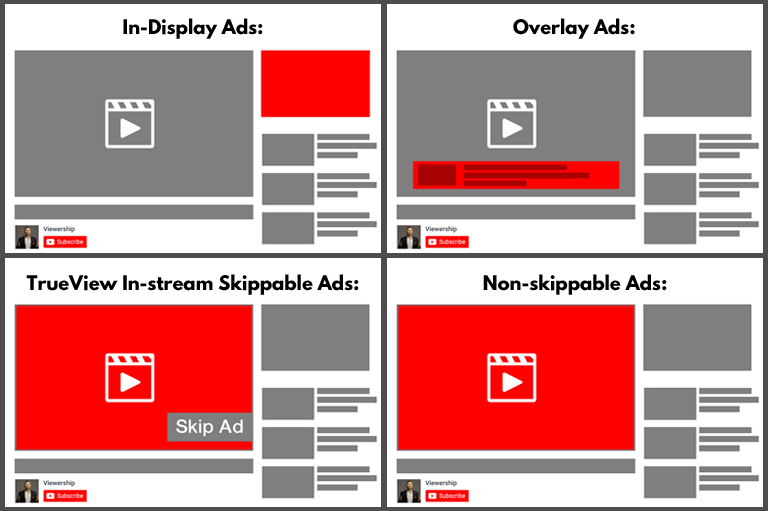 8. Run YouTube giveaways and contests
If you want to know how to promote your YouTube channel in a fun and creative way, you can't go past a good giveaway.
Giveaways and contests are an incredible tactic for engaging your audience. After all, who doesn't love free stuff? Use prizes as an incentive to get viewers to subscribe to your channel. Ask viewers to leave a comment as their entry. Invite customers to upload their own video showing them using your product or service.
There are many different ways to run a successful YouTube contest. Ensure it adheres to YouTube's policies and guidelines, then promote the giveaway on YouTube, your website and across social media to get the word out.
When done well, a YouTube giveaway will not only promote your channel, but also attract subscribers, drive sales, generate leads, and build a more loyal, enthusiastic community.
9. Cross-promote on blogs and social media
A big part of learning how to promote your YouTube channel is discovering how to cross-promote. Your channel's marketing strategy can and should extend beyond YouTube itself. Here are two key ways to cross-promote your content:
Embed videos in your blog posts
Cross-promoting is the savvy marketer's game. When you embed your YouTube videos on your blog or website, you can increase not only video views, but site traffic as well.
Write articles and embed existing videos to improve your search ranking and earn valuable page views. Or vice versa — identify an existing high-traffic article on your blog and make a video that summarizes or expands on the topic.
If you aren't a confident writer, you can look to hire somebody on websites like ProBlogger. Alternatively, you could include a transcript of the video. This is a simple way to produce searchable, keyword-rich content to promote your videos.
Advertise on social media
Cross-promoting your videos on your social platforms like Facebook, Instagram, and LinkedIn is ideal for gaining views from an already-interested audience.
You could simply share a link to your video, but shooting an additional promo video will get you better engagement. This is especially true for Facebook. Studies have shown that your followers are much more likely to watch and engage with videos that are uploaded directly through Facebook's native video uploader. In other words, learn how to promote your YouTube channel creatively! Produce a short video that introduces the subject matter and informs viewers about the longer video. Then upload that promo directly to your social media.
One final (and very simple) tip: include a link to your YouTube channel in your email signature! This is a promotional opportunity that you can set-and-forget; now every email you send has the potential to convert. Subtle, but effective!
10. Collaborate with other influencers in your niche
Engage, collaborate, and interview other brands on YouTube to expose your channel to new audiences. Let's look at Tai Lopez as an example. Tai is an investor, entrepreneur, and business advisor. With over 1.2 million subscribers, he is a notable influencer on YouTube.
Now look what happens when you search for Tai Lopez on YouTube: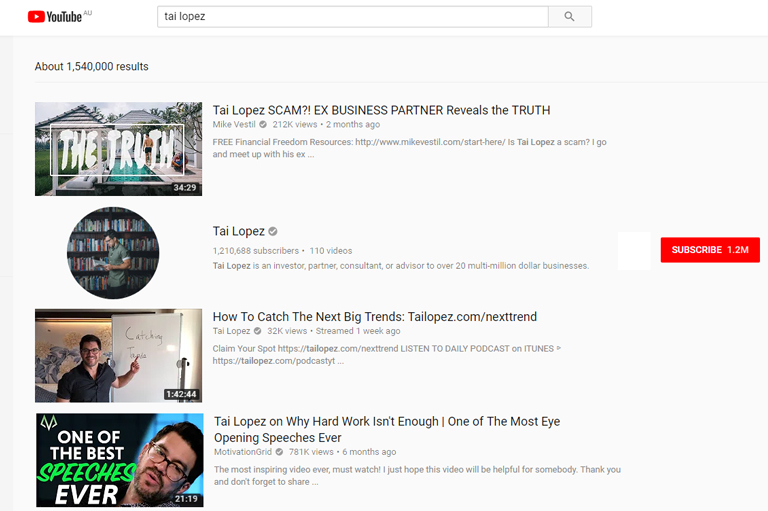 You do, of course, find his channel and his videos. But there are also videos by other brands who have interviewed, responded to, or otherwise included Tai in their videos. By creating content that is linked to an expert in their niche, these users have successfully climbed the ranks to appear at the top of the search page.
Additionally, a partnership with another content creator can be a great tactic to widen your subject matter and build your subscriber base. One of the best things I've done since starting Viewership is team up with my good friend Neil Patel. Combining Neil's expertise for digital marketing and SEO with my knowledge for YouTube and video marketing means we can produce authentic, knowledgeable videos on a regular basis. I bring some of my followers to his channel, and his channel provides exposure to mine. Like all good collaborations, it is a win-win scenario where our promotional goals align.
Try collaborating or engaging with big influencers in your industry to spread your reach to viewers who are likely to be interested in content like yours.
11. Create a regular video series
Consistency is crucial for a successful business YouTube channel. One way to achieve a consistent upload schedule is by maintaining a regular video series.
Video series will tell your audience what to expect and when to expect it, which can help to keep them coming back for more. Series like Moz's "Whiteboard Friday" or Neil's and my "Q&A Thursday" videos give viewers the perfect reason to subscribe to your channel.
If you want to find out how to promote your YouTube channel with a regular or weekly video series, start by checking the analytics of your existing content. Which videos have the best watch time and engagement? Can you identify a specific topic area that your fans are most interested in?
If so, brainstorm some ideas for that subject matter and see if you would be able to produce an ongoing video series. This can be a great way to meet the demands of your audience, while also growing your channel with frequent, desirable content.
12. Make playlists
Make your videos easier to find and enjoy by organizing them into consumable playlists. Create playlists of videos that share a genre, theme or other noticeable criteria. (If you do create a weekly video series, be sure to save it as a playlist!)
Playlists will help to create a streamlined watching experience for your audience. In a playlist, each video runs on autoplay after the previous video finishes. This is a useful way to encourage continued consumption and promote further content.
Playlists can also improve your rankings in search engines; the playlist title and description are additional opportunities for you to include keywords and target your audience.
Your playlists can be a collection of your most popular videos, an ongoing series, or a custom collection about a specific topic. You could also experiment by adding relevant content from other popular YouTubers. Viewers who search for these high-profile videos may come across your playlist — and they might just realize how awesome your own stuff is, too.
13. Enable video distribution and encourage embedding
Want to know how to promote your YouTube channel without paying? Make sure your audience is able to do some of the work!
By that I mean you should double check the distribution options of your channel and ensure that you have enabled video embedding.
If customers, bloggers, business owners or other viewers love your video, that may wish to share it with other people. Allowing people to embed your videos means they can insert your content into their website, blog or YouTube channel. This is an effective way to gain more exposure to new audiences.
How do you enable video embedding?
Go to your "Creator Studio".

Select "Video Manager".

Click "Edit" on the video you want to edit.

Go to "Advanced Settings" and ensure the "Allow embedding" option is ticked.
Done! Now people will be able to click the "Share" button and easily copy and paste the embed link into their website. The more people embed and share your content, the better the promotion for your YouTube channel!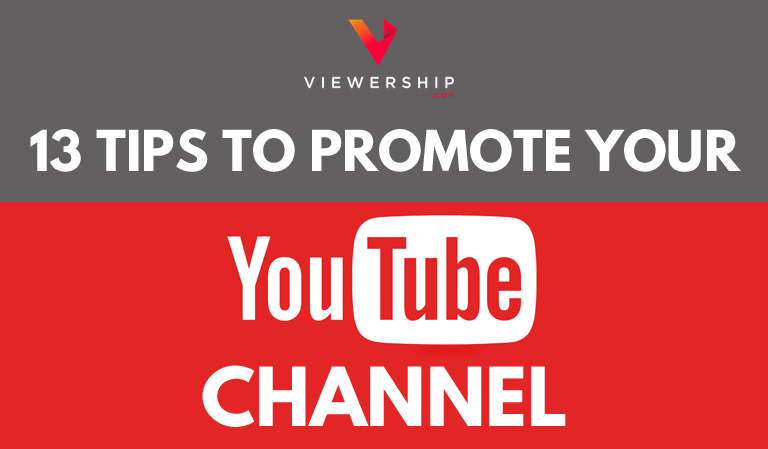 Quick recap
You made it to the end! Now you know how to promote your YouTube channel with a variety of platforms and techniques. Before we finish up, let's do a final recap of what we just learned:
Do YouTube SEO to get your videos ranking on search engines.

Give each video an irresistible, keyword-rich title.

Use compelling, attention-grabbing video thumbnails.

Use clear CTAs to guide viewers to the next desired step.

Get the word out with email marketing.

Engage with your YouTube community.

Advertise your YouTube channel with TrueView ads and Google AdWords.

Run giveaways and contests for subscribers.

Cross-promote on your blog and social media.

Collaborate with other influencers in your niche.

Create a regular video series.

Organize your content into playlists.

Enable video distribution and encourage embedding.
Conclusion
YouTube is the place to be when it comes to building an audience and growing your brand. With these 13 tips, you can start promoting your YouTube videos and keep that subscriber count climbing.
Want to learn even more tactics about how to promote your YouTube channel? Join me for some free training at Viewership! I'll teach you everything you need to know about optimizing your videos, maximizing your exposure, and creating a profitable YouTube channel in 2018.
What techniques and promotion services have you been using to get your channel noticed? I'd love to hear about your YouTube journey in the comments below!