If you want to use YouTube to market your business, you're going to need to know how to make a YouTube video that attracts attention.
Videos are the future of marketing. With YouTube, you could significantly improve the sales, credibility, and visibility of your business. But making YouTube videos requires more than a camera and an engaging personality.
This article is your complete tutorial to making videos for YouTube. By the end, you'll have all the information you need about choosing your equipment, coming up with content ideas, shooting your video, and posting it on YouTube to grow your viewership.
Ready to learn how to make a YouTube video? Let's do this!
How to make a YouTube video and grow your viewership in 2020
1. Choosing your equipment
The first step to learning how to make a YouTube video is to select the right equipment and technology. It is vital that you consistently upload high-quality content to attract subscribers and grow your channel.
So what do you need to make a YouTube video? There are many different ways to capture your footage. You don't necessarily require the best or most expensive equipment to get started on YouTube. You can always purchase new and better stuff down the line.
For now, choose equipment that will allow you to capture good quality footage and create an enjoyable watching experience.
Smartphone
Camera equipment can be expensive. For all those newly-started content creators out there, you may find it helpful to know how to make a YouTube video on your phone.
Many popular YouTube videos are vlogs or short clips shot on mobile phones. Most modern smartphones (as well as iPads and other tablets) come equipped with adequate functionality to record videos and audio.
Remember these quick tips when making YouTube videos with a phone:
Position the camera in a landscape orientation (never

ever

portrait).

Look at the camera lens. If you look at your own image as it is being recorded on screen, you won't be making direct eye contact with your viewers.
Pros/cons of a smartphone? Smartphones are lightweight and portable, making them excellent for shooting footage on the go. And because most of us already own a phone, they're the least expensive option for capturing videos. However, the audio and visual quality is likely to be poorer when compared to the capabilities of a dedicated video camera.
Webcam
Most modern computers will come with an integrated webcam located above the monitor. Alternatively, you can purchase a separate webcam to attach to your laptop.
Remember to check the webcam framing. You should be in the center of the shot, eye-level with the camera. Most webcams aren't great at capturing footage in low-light situations, so make sure there is plenty of light while filming (more on that later).
Pros/cons of a webcam? Unless you're willing to cart your laptop around with you, webcams aren't the most portable choice. Plus, the video quality probably won't compare to a video camera. But a webcam may suffice if you are unable to acquire another alternative.
Video Camera
If you want to know how to make a YouTube video that looks amazing, a video camera is the best option. A dedicated video camera will help to achieve a better viewing experience with higher quality filming than a smartphone or webcam.
Prices can vary from anywhere between $50 or several hundred dollars, depending on the type and functions of the video camera.
If you purchase a video camera, you may also like to invest in a tripod. This will provide professional image stabilization for your footage, and allow you to position the camera at eye level easily.
Pros/cons of a video camera? If you don't already own a video camera, then this will likely be the most expensive option. However, you may decide it is a worthy investment after seeing the high-quality results. If you want your videos to stand out and reflect positively on your business, I recommend you research some of the different video cameras that are available.
Record your monitor
Have you ever wondered how to make a YouTube video without a camera? Some YouTube creators produce their videos by recording content that is on their computer monitor. This is particularly popular with streamers but is also a useful technique for creating computer-related tutorial videos and other video content.
You can record your monitor using third-party software — there are quite a few options to pick from. Most programs will enable you to record from the whole screen, a manually selected area, or a webcam.
It's always a good idea to shoot a test clip first. Check that both the audio and visual elements are being sufficiently recorded before you sit down to produce a long video.
Pros/cons of recording your monitor? The "face-cam over the footage" style of content is very typical of video gamers on YouTube. It may not create the right tone for your business content. On the other hand, recording your monitor can be extremely useful for filming demonstrations about how to use an app or perform a task on a computer. You will know best which style of video making suits your business.
Recording the monitor is also an affordable option, with many recording programs being free to download. (Just make sure your chosen software doesn't add unsightly watermarks or limit your recording time.)
Microphones
Audio is a crucial part of making good YouTube videos. Your audience should be able to hear you clearly, so you may want to consider investing in a good microphone.
Typically the microphone that is built into your mobile, tablet or computer will produce adequate (but not crystal-clear) audio. You can try to improve the quality by ensuring you film close to your equipment in a quiet room. Be mindful of sounds that could affect audio, such as wind, traffic or other background noises.
Alternatively, you can produce stunning sound quality for your YouTube videos by using a professional microphone. Some mics can be used with smartphones; there are large studio setup microphones; there are tiny lavaliers that attach to your clothes for hands-free recording, and many other options.
Pros/cons of a dedicated microphone? If costs are a concern, test the audio quality that you can achieve with the built-in microphone of your recording equipment. But do you want to know how to make a YouTube video that stands above the rest? My advice is to find a reasonably priced microphone.  Not only will it record fantastic audio, but it will also enable you to stand further away from the camera if you choose.
Video Editing Software
There are many good options for video editing software that will allow you to edit and enhance your YouTube videos.
Prices can vary from free, user-friendly, basic programs, to more expensive software geared towards filmmakers. Even if you don't consider yourself a video pro, you may like to edit your YouTube video to add a title, equalize audio, or fix small portions of your content.
Knowing that you have video editing software could also provide reassurance while filming your footage. Did you fumble a sentence or forget what you were going to say? That's ok! You don't need to restart. Just take a breath and continue. You can edit that section out later.
Pros/cons of video editing software? Whether you like to jazz up your videos with stylish transitions, or you simply want to crop out a lengthy pause, video editing software can help. Just make sure you do your research to find the program that best suits your budget, skill level, and editing requirements.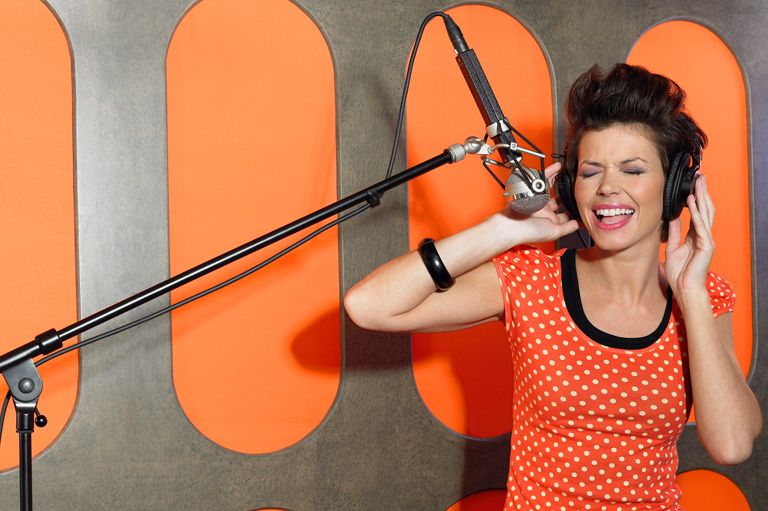 2. Ideas for videos
A big part of learning how to make a YouTube video is coming up with great content ideas. That means researching and choosing the right topics, establishing your schedule, and (when necessary) writing a script. All of this can help you to make the types of videos that your viewers are interested in, and thus improve your view rates.
Research trending topics
A "trending" topic is something that is currently popular and being frequently searched for by viewers. You should always try to remain aware of current trends. Creating a video based on a relevant trending topic is a great way to attract new subscribers. In a sense, the content is already optimized to benefit from the existing flow of search intent, with the potential to improve your ranking.
In other words, if people are already looking for "a topic", and you then create a video about "a topic", that video is more likely to be found online by interested viewers.
There are a few different ways for you to research trending topics for your YouTube videos:
Look at other channels
So you want to know how to make a YouTube video but you aren't sure where to start? One of the first things I ask my clients to do is to take an inventory of the most popular channels and videos in their industry.
Remaining aware of the topics being addressed by your competitors can help you keep up with content ideas for your industry. Explore other channels and brainstorm some ideas.
Remember, this isn't about reproducing or copying another channel's videos. This is about finding out what your viewers are interested in seeing. Survey the playing field, research trending topics, and think about how you can use your unique voice to create new videos about existing subject matters.
Use Google Trends
Google Trends is a useful tool to find ideas for content creation (as well as identify tags and keywords we can use when we upload the video).
The Google Trends homepage will show a list of the day's top trending topics. You can also enter your own search term. This will present you with a graph, which shows how often that keyword, subject or phrase has been queried over time.
Use Google Trends to capitalize on topics as they become popular and uncover great video marketing opportunities.
Use Google AdWords Keyword Planner
Keyword Planner is a Google AdWords tool that can help you reach the right audience with the right keywords. You can search for any keywords, and Keyword Planner will provide a list of variations. You can get topic ideas to make your videos, and keyword ideas to optimize your campaigns.
Keep an eye out for words with high search volume and low competition. These criteria mean people are frequently searching for that topic and are finding few results. Create a video about that trending topic to improve your visibility and appeal to potential subscribers.
Check Google's related searches
Here's one quick, final way to discover topic ideas. Search for a phrase on Google, then scroll to the bottom. The "Searches related to [blank]" section may provide you with useful keywords or content ideas for your videos.
For instance, you may have the general idea to create content about "how to edit videos". Google shows you some of the most popular searches similar to that phrase. You could now create videos and tutorials about editing videos "online", "on iMovie", or "on iPhone" — and feel confident that these topics are desired by your potential subscribers.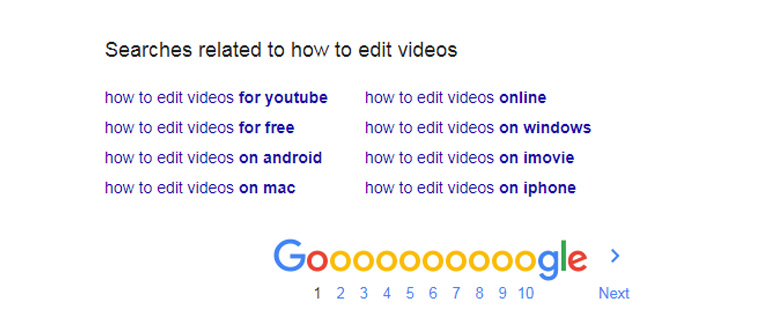 Establish your process
Consistency is a big part of growing your viewership on YouTube. Whether you decide to post videos every day, twice a week, or once a fortnight, you should try to form a noticeable schedule that your viewers can rely on.
This will not only improve the credibility of your brand, but also help to streamline your process of content creation.
When you first begin to make YouTube videos, take note of how long it takes you to research ideas, write a script, capture footage, edit the video, upload the video and optimize all of its features.
Knowing the time commitment of these tasks is the first step to turning your video-making process into an art form. Plus, you'll be able to accurately guess how many videos you are capable of producing. Don't force yourself into an unrealistic daily upload schedule if you have too many other commitments (as most of us do!). When it comes to learning how to make a YouTube video, remember this one tip: it should continue to be enjoyable for you to do!
Choose a type of video
Consistency is important not only for your upload schedule, but also for the type of videos you create.
There are many different kinds of videos, and it's ok to use a variety of them. But your overall brand style should remain the same across your channel. Whenever somebody watches your content, they should be able to quickly recognize it as being one of your videos.
Some video types will be better suited to your business than others. Before making a YouTube video, ask yourself: what do I want to achieve? Identify specific goals and make videos that are best suited to accomplish them.
Some popular types include:
Vlogs — Regularly-updated video blogs can help viewers get to know you better. Express your creativity with vlogs about topics relevant to your industry, or personal updates about you and your business.
Explainer videos — Create knowledgeable explainer videos and tutorials to answer customer questions and establish your brand as an authority.
Customer testimonials — Send out requests for your satisfied customers to answer a few questions about your business. Customer testimonials can improve the credibility of your brand.
Montages — Montages are usually fast-paced videos made from short video clips or images, set to music. This can be an exciting way to advertise a product range, show a recent event, give viewers a behind-the-scenes look at your business, and much more.
Product demonstrations — Video demos are a great way to showcase your range or promote a new product.
YouTube Live — Broadcast live videos on YouTube to create a direct and unfiltered line of communication with your audience. This is ideal for Q&A sessions, or for building a rapport with viewers. Learn how to start a YouTube live stream here.
Write a script
Writing a script isn't necessary for all types of YouTube content (such as vlogs or live streaming). But if you want to know how to make a YouTube video for your business, I highly recommend you take the time to sit down and write an outline for your content.
A video script doesn't need to be a Shakespearean masterpiece, and you don't need to learn it verbatim. But writing a script can help give your video more structure, allowing you to deliver a more professional video that says everything you wanted it to say.
Here are some tips for writing a video script:
There is no right or wrong. Do you want to write and memorize a cohesive speech? That's great. Would you prefer to jot down a guideline, then wing it on camera? That's fine too! Everyone has their own style of content creation; find what works for you.

Keep it streamlined. One of the main benefits of writing a script is that you can review what you've written and read it aloud. If anything seems superfluous or wordy, you can rewrite and improve your content before it even gets filmed.

Capture attention as quickly as possible. Write an

engaging introduction

and include your primary message or topic in the first few sentences.

Speak directly to the audience. Be sure to use pronouns like "you" and "your" in your script to make a personal connection with your viewers. Studies have shown that videos that say "you" in the first five seconds get

68 percent more engagement

than videos that do not.

Be authentic. As you're writing your script, remember that you'll soon be speaking it aloud. Make sure you're using a tone and terminology that feels comfortable to you.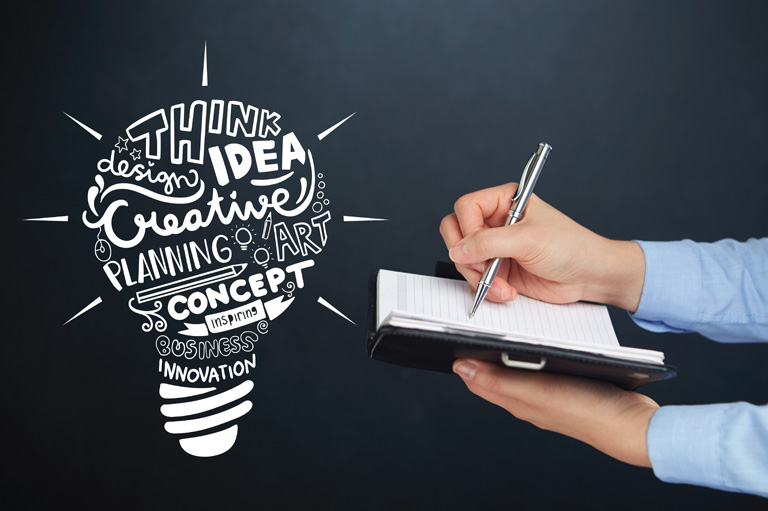 3. Making the video
You've got your equipment; you've got your idea. Now it's time for the "lights-camera-action" portion of our guide on how to make a YouTube video. Here are some of the important things you should know when capturing footage for your video:
Have plenty of light for your video
Your lighting setup is very important. Effective lighting will allow people to see what you're doing, but can also have a powerful effect on the tone of your video. A warm and well-lit setting looks professional. Meanwhile, improper lighting can lower the quality of your production and reflect poorly on your brand. It could also cost you time and money if you need to reshoot footage.
There are many different techniques and types of technology that you can use to achieve a great lighting setup that will enhance your videos.
Here are a few lighting tips:
When possible, film during the day. Natural sunlight is the best (and free!) form of light.

Use fluorescent lights. Non-fluorescent options will cast an unnatural, unflattering yellowish glow!

If you have a small budget, you can often find affordable lighting kits to light up a small area. Alternatively, you could try using lights or lamps that you already own.

An overhead bulb or well-positioned hairlight may provide the right amount of illumination to define your head and shoulders. This can help you stand out from your backdrop. But use this in conjunction with other lights positioned in front of you.

Face the light source as directly as possible to avoid shadows on your face. If you're filming at your desk, a lamp on either side of the camera or webcam can often provide sufficient lighting.

Be careful with intensity. Too much light can make you look washed out, or cause you to squint.
A good lighting setup can add focus, depth, and quality to your video. Be sure to pay attention to light when learning how to make a YouTube video that attracts subscribers. The right light can make a great first impression!
Dress appropriately
Between setting up the camera and writing the script, it can be easy to forget about seemingly simple things like your clothing.
But you should always take a moment to think about what you should wear on camera.
Wear something comfortable. Making a YouTube video is hard work; you don't want to be distracted by uncomfortable or itchy clothing.

Think about your brand. For many business owners, a professional collared shirt or blouse will be right on the money. But what if you're a personal trainer shooting workout videos? Or a life coach with a more laid-back

brand personality

? Wear something that reflects your business.

Patterns and colors are important. Small, intricate patterns don't always translate well on film. They can make the footage appear blurry and dizzying. Meanwhile, large blocks of white, black, or highly-contrasting colors can also be a problem. You can always play it safe with shades of grey and blue, or try simple

jewel tones

.

Remember your backdrop! Wear clothing that will stand out (and not blend in) with the color of your background.
With a little bit of wardrobe planning and consideration for your brand, you can learn how to make a YouTube video that projects the quality and confidence of your business.
Have a clean background
Your background should set the scene and add the right tone for your videos. An untidy setting will look unprofessional and may distract viewers from what you are saying.
There are many different ways to set up a nice background for your YouTube videos:
Where possible, move in closer to the camera so that the background takes up less of the frame.

Are you filming in your home or office? Try to find a simple wall as your backdrop. A bookcase can also tell a subtle story in the background; keep it tidy and fill the shelves with books, awards and so on.

Remove any furniture, family photos or props that aren't relevant to the theme of your video.

For an instant lift in quality, invest in a pop-up banner or studio backdrop. You can find these in a range of clean, unassuming colors that will help viewers to remain focused on what you are saying.

You could also use seamless paper to make a DIY YouTube studio. A colored backdrop creates a distraction-free, eye-catching look to help your videos stand out.

You can use a

green screen

to insert a background during the editing process — whether it's a simple image of a landscape or a video clip related to your subject matter.
Is your brand fun and friendly? Rugged and outdoorsy? Corporate and sophisticated? The background of your video can do a lot to communicate the value of your brand, so make sure you get the right setup.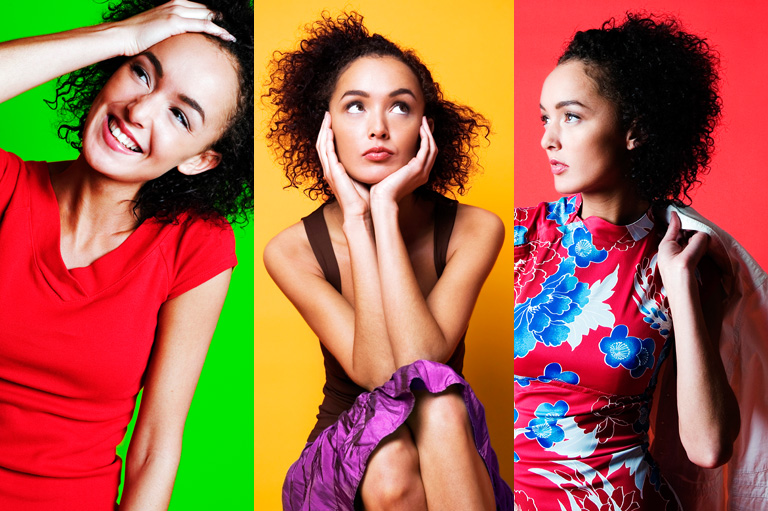 Record your footage
ACTION! The time has come to start capturing your footage.
Whether you've made plenty of videos before or this is your first YouTube video, it can always be a bit nerve-wracking to hit that "record" button. Try to relax. You are ready and prepared to make an awesome video, so here are a few final tips to help you capture that footage:
Be you
The best way to feel comfortable in front of the camera is simply to be yourself. Use a tone that comes naturally, and you will find that your videos can make a more authentic connection with viewers.
Speak loud and clear
I mentioned earlier that audio is incredibly important for the quality of your video. And a big part of that is simply ensuring that you speak in a loud, clear voice throughout your video. If you're using a microphone, you may need to test its positioning and distance.
You can try again
You might have to record multiple takes, especially when you're first learning how to make a YouTube video. That's ok! There is no pressure to get it right the first time — but nor does it have to be perfect. Remember that you can edit the video later. If you fumble a sentence or need to stop and check your notes, keep rolling! At this stage of the video-making process, it is important to keep your momentum.
4. Upload your video
Congrats! You now know how to make a YouTube video with all the right equipment and ideas supporting it. Now it is time to get your footage ready to upload to YouTube.
Do you already have a YouTube channel set up, optimized, and ready to go? If you need help with that step, check out this article. I've written a complete guide for how to set up a YouTube channel.
Upload from the device to your computer
Transfer the video to your computer
If your footage is on an SD Card from your video camera, insert the SD Card into your computer (or use a USB card reader), and locate the video file in the DCIM folder. Transfer your video to a safe location on the computer.
Transfer from mobile to computer
Did you make a YouTube video on your smartphone? You can transfer it to your computer using websites like Dropbox. Or you can simply attach your phone to your laptop using a USB cable to transfer files.
Another option is to upload directly to YouTube (but only if you don't need to do any editing before you post the video).
Login to YouTube on your phone.

Tap the "Upload" icon (which appears as a video camera) in the top-right corner.

Tap "Allow Access" if necessary.

Select the video that you want to upload and fill in the fields.
I'll tell you how to fill these fields with optimized content in just a minute.
Edit the video
Editing your videos is an optional but recommended step. Even simple edits, such as removing small portions of silence or adding a branded title, can make your video more compelling.
You don't need to purchase complex video editing software; many of the free editing programs available online will allow you to perform basics steps.
Cut out any awkward silences pauses to make your content more dynamic and seamless for the viewer.

Many video-editing programs include a "noise-canceling" feature. Use this to reduce overall background noise in your video.

Consider personalizing your content with music or other effects. Music can help to add energy, set a tone, or

shape your audience's emotions

. If you do choose to include music, be careful with copyright. Check out YouTube's

Audio Library

for a collection of free songs and sound effects.

Add a brief title sequence or similar feature to promote your business and improve brand recognition.
When you're happy with your video, be sure to save it in one of YouTube's supported file formats, which includes MP4, WMV, AVI, and many others. The maximum file size for YouTube videos is 128GB. (This is huge, so it shouldn't ever cause an issue.)
YouTube displays videos on desktop with a 16:9 aspect ratio. The video player will accommodate videos with incorrect ratios by automatically adding black bars to either side. To avoid this, encode your video in one of the recommended resolution and aspect ratios.
Post your video
You're now ready to upload your first YouTube video!
If you'd like to see a full step-by-step guide with images on how to upload a video to YouTube, head to this article.
Here's a quick tutorial:
Log-in to YouTube and head to "Creator Studio".

Click on the "Upload" arrow. This will take you to the YouTube Upload screen.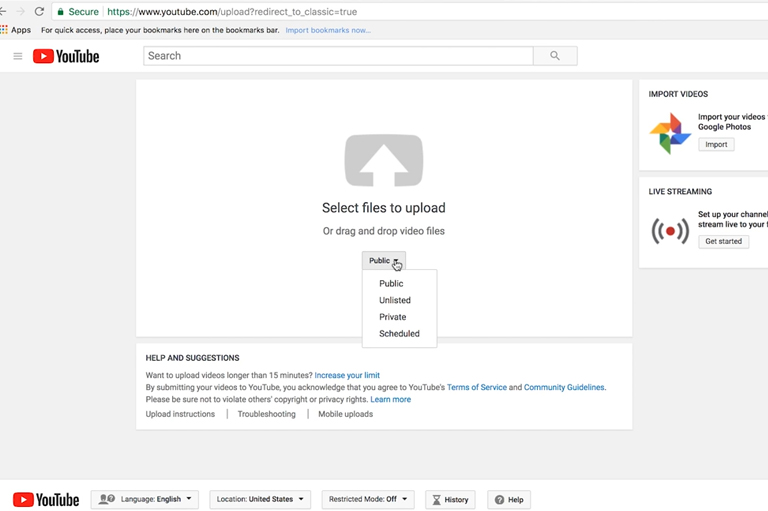 Select your video and click "Upload".
While your video is uploading, we can fill in the necessary fields — title, description, and tags.
Optimize your video
Optimization is a crucial step in knowing how to make a YouTube video that will grow your brand. Optimizing your video means using good SEO tactics to give your viewers (as well as YouTube's search and discovery system) the information they need to be able to find your content.
Here's how you can write titles, descriptions, and tags that will improve the visibility of your YouTube videos.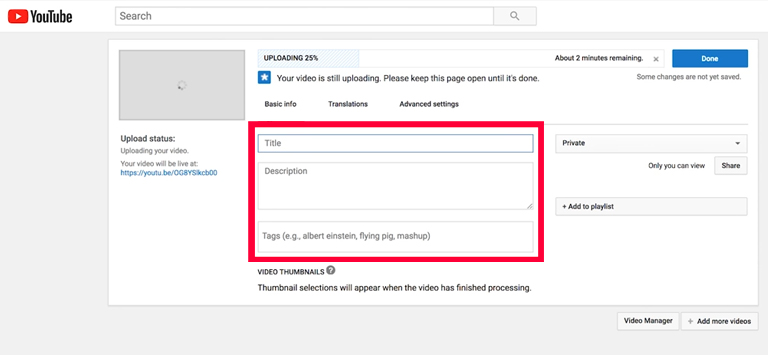 Title
Write a compelling title to give potential viewers an idea about what your content will provide. Be concise; your title should be no longer than around 70 characters. And include important keywords (what is the main topic of your video?) near the beginning of the title.
Video description
Descriptions are a crucial source of information for YouTube's search algorithm. Include clear and specific keywords to help viewers understand what your content is about. Prioritize the most important information in the first few sentences; YouTube will truncate your description to a "show more" button after the first two or three lines.
You could choose to include a transcript of your video, or write a blurb that summarizes the topic. The description is also an excellent place for calls-to-action or links to your website.
Tags
YouTube tags are similar to hashtags on Twitter or Instagram. Think about the words or phrases people might type into the search bar when they are looking for videos like yours. Use these as tags to improve the ranking and visibility of your video. Type in your keyword or phrase (a long-tail keyword) in the "Tags" field, then add a comma or hit enter to confirm.
Thumbnail
Once your video has finished uploading and you've written some excellent metadata, you'll need to select a video thumbnail.
The thumbnail is the image shown in search results (both on YouTube and on Google). But it's more than just a pretty picture — in fact, a unique thumbnail can have an amazing impact on the click-through rate of your video.
When you upload a video, YouTube will provide you with auto-generated thumbnail options. Many new creators will opt for one of these, which is understandable. There's a lot to learn about how to make a YouTube video, and creating a thumbnail can seem like one step too many!
But I highly recommend you add "create a custom thumbnail" to your video making process. According to YouTube, 90 percent of the best performing videos have custom thumbnails. That's because it stands out from the crowd, is unique to your brand, and can include eye-catching imagery and key information to draw attention.
Can't find the option to upload a custom thumbnail? Your YouTube account may still need to be verified. Simply head to youtube.com/verify to receive a verification code.
Spend a bit of time getting these four elements right. Optimizing your YouTube videos with effective titles, descriptions, tags, and thumbnails is critical for YouTube's search system. This is how viewers will find your videos, so do it well!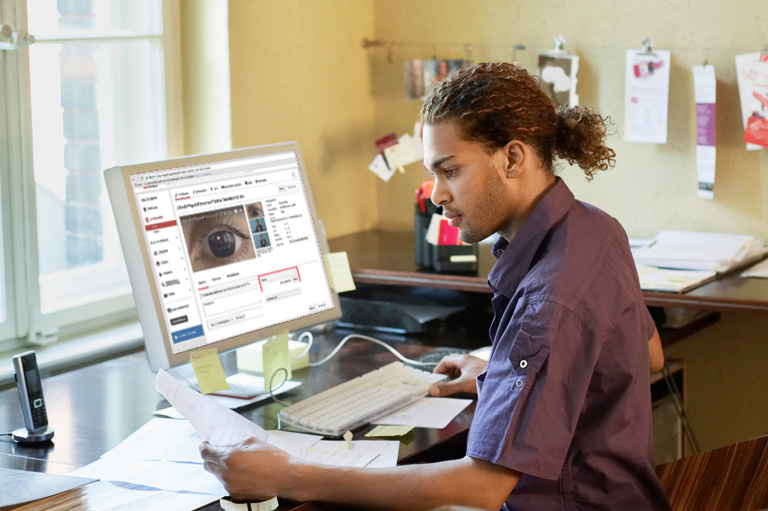 5. Maintain and increase your number of subscribers
After all this hard work, you will, of course, want to see your subscriber count grow. But subscribers are fickle beings. You will have to work hard to not only attract viewers but also to increase and maintain the number of subscribers on your channel.
Continue to produce quality content
If you want to use video marketing to grow your business, you must continue to create high-quality content.
Your YouTube videos need to be of a consistently high standard to beat competitors to those coveted spots on YouTube's front page.
There is a lot of content on YouTube; if people find your video lacking in quality or substance, they are one easy click away from another similar video. This is especially true of businesses using YouTube videos to grow their brand — a crappy video can reflect poorly on your products, services or business as a whole.
Quality and consistency go hand-in-hand. All of the steps we've covered in this article (planning a script, capturing the footage, optimizing the video) must be practiced, repeated and perfected with every piece of content you do.
Nobody said using YouTube to build your business would be easy. If you need a hand managing your channel, Viewership can help. We'll start growing your brand with a YouTube SEO strategy, paid advertising, organic reach, and other solid marketing tactics.
Thank your viewers
What is the use of knowing how to make a YouTube video if no one comes back to watch your next one?
YouTube marketing is about connecting your brand with your viewers. One crucial part of making this connection is by interacting and thanking viewers for their support of your content.
YouTube is a social network. That means you need to be social to grow your online presence and enhance your channel. There are a few different ways you can remain an active presence with your viewers:
Ask people to like, comment and subscribe. This is a direct call-to-action that you can state verbally in the video, write in the description, or even add to your website.

Take the time to write genuine replies to comments you receive. This is easy when you first start up a YouTube channel, but try to continue the habit even after your subscriber count increases. You may not be able to reply to everybody, but make it a goal to answer important questions and interact with popular comments.

Encourage conversations with viewers. Ask them a question about the topic, or find out what they would be interested in seeing more of in the future.
Building a community of loyal subscribers takes time, but has significant benefits for your channel. YouTube gives your business the opportunity to "truly connect and foster personal relationships" with a worldwide audience. Without your viewers, your channel cannot grow. So take the time to thank them and work hard to meet their video needs!
Check your analytics
Learning how to make a YouTube video includes knowing how to check your analytics and make improvements.
YouTube makes this easy by providing useful analytics in your Creator Studio. Here you can monitor performance and learn important information about your audience, your traffic, and your videos.
Here are some key metrics to keep an eye on:
Watch time
Watch time is, as the name suggests, an estimated tally of the time viewers have spent watching your videos. The watch time of your content is an important ranking factor; videos with a high watch time will typically rank higher in YouTube search results.
Audience Retention
Audience retention tells you what percentage of the total video is being watched. Are viewers making it to the end of the video, or are they clicking away halfway through?
These insights are invaluable for your future video making. Notice the videos that have consistently high watch times and retention rates, and identify why they're working. Likewise, consider why other videos might be performing poorly. Do they need a stronger introduction? A clearer title? A different thumbnail?
Experiment with small changes and monitor what happens. That way, you'll be able to understand which changes bring positive results.
Traffic sources
Learn how viewers are finding your content by checking the traffic sources. Did they search directly on YouTube? Did they follow a link from Facebook? With these insights, you can refine your YouTube marketing methods and promote your content through more effective avenues.
Demographics
The Demographics report will help you gain a better understanding of the age range and gender distribution of your audience. Use this knowledge to establish accurate buyer personas and create videos that appeal to your target audience.
Interaction
The Interaction reports in YouTube Analytics provide data about how people are engaging with your content. Keep track of your subscriber count, likes and dislikes, comments, social shares and more.
By reporting and monitoring the success of your YouTube marketing, you will be able to make necessary changes and strengthen your channel. Know your subscribers and build an audience of people who love what you do!
Conclusion
Making YouTube videos to promote your brand requires more than shooting some footage and sticking it on a channel. Now you know how to make a YouTube video, but are you willing to put in the time and effort to make your channel flourish?
If the answer is YES, then Viewership is here to help. You can access my free training at any time to learn more about how to build your business and make money on YouTube.
Do you have any questions about making your first YouTube video? Or are you a content pro with some tips of your own? Let me hear your thoughts in the comments below!