Knowing how to start a successful YouTube channel can introduce some amazing opportunities for your business.
Let's look at the facts. YouTube has over 1 billion users. It is the world's second largest search engine. And when given a choice between text or video, 72 percent of people would choose the video to learn about a product or service.
YouTube is an ever-growing platform full of engaged, active consumers. By using YouTube video marketing, any business can discover the opportunity to connect with a massive audience and grow their brand.
And yet only 9 percent of small businesses are on YouTube. Why are so few businesses choosing to invest in YouTube marketing? In most cases, it is because people are intimidated by the time and effort required to succeed. Anybody can set up a YouTube account, but to actually start a successful YouTube channel is much more of a challenge.
How do you define "success" on YouTube? I would say that success is about stability. It isn't about making crazy viral videos and having five minutes of fame; it's about creating a stable business model to help you build your viewership and grow your brand.
If you're not afraid of working hard to improve your business with YouTube marketing, then this post is for you. I'm about to teach you how to define your audience, make YouTube videos, optimize your content, and start a successful YouTube channel that leads to growth and profit for your business.
How to start a successful YouTube channel: the complete guide
Define your audience
Your focus should always be on your YouTube audience. Who are they? Where do they come from? What do they like to do? What types of videos do they want to watch?
If you want to start a successful YouTube channel, you can't simply throw a few videos together and hope for the best. Think about the reasons that you have decided to create a YouTube channel. Perhaps you wanted to show people your talent, share some information, teach others how to do things, or let customers see what your products can do.
Your YouTube videos will share your unique message. But before you start creating content, you need to identify who you want that message to reach. The more you define your target audience, the more engaging your viewers will find your content.
Start by asking these three questions:
Who are you targeting?
First, we want to figure out who your target audience is. In other words, we're creating a customer persona. We want to understand not only who is interested in your business, but also the subtle nuances of your viewers that will affect how they interact with your brand and consume your content.
The type of audience you create content for should be the same type of people who buy your products or services.
Let's say you have a business that sells hair products. You want to start a YouTube channel with beauty tutorials and content about using your products. You decide that your target audience is young women. But let's try and get more specific! Maybe your audience could be:
Women aged 18-34 years old

Women in North America

Novice hairdressers

Beauty professionals
It's good to narrow your audience based on a range of criteria, from their age and location, to their level of experience with your chosen subject matter. By establishing a more specific customer persona, you can create targeted content that is more likely to appeal to an interested niche community.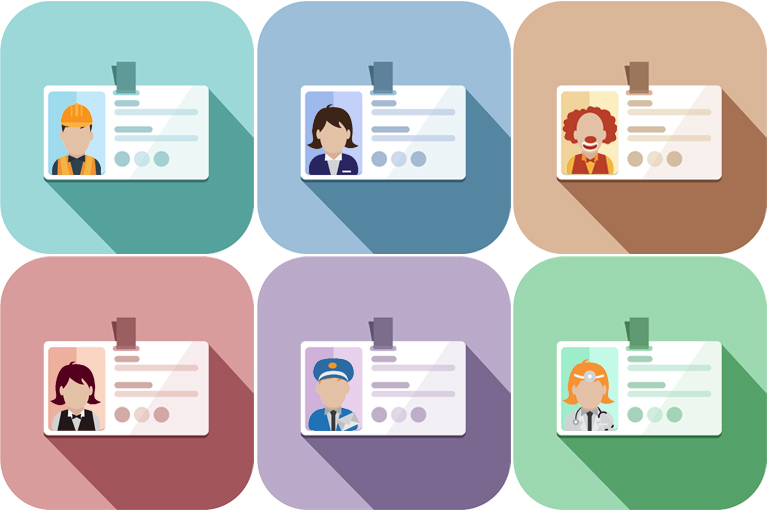 What do they want?
The main point of making YouTube videos is to satisfy the needs of your target audience and earn their following. So we now need to identify those customer needs.
In other words, why might your viewers watch a video like yours? Do they want to get in shape? Learn how to bake? Find some useful DIY tips? Make more money? We need to figure out the primary goals of our audience.
Let's go back to our hair products business. Using the knowledge you have about your customers, you might determine that your audience wants tutorials about how to achieve certain hairstyles, tips about what to do with long or short hair, different ways to improve their hair health, and so on.
You could branch out. Make videos about outlandish hairdos for cosplay, show them how to style a wig, or give advice about setting up a great hair salon. These videos may not be directly connected to your products, but may still be able to attract specific niches of your target audience.
Identify what your audience wants, and be the channel that meets their needs!
How can you meet their needs?
Now we come to the crux of the matter: how do we meet our audience's needs? There are many different types of videos that we could create. This includes how-to tutorials, product reviews, product demonstrations, comedy videos, educational videos, and much more. The type of content your target audience prefers will dictate the kind of YouTube channel you start up.
So how do our customers want to consume their content? For our hair products business, product demonstrations and styling tutorials would be ideal. For Viewership, I meet my viewers' need for knowledge with educational videos and how-to's. On my other channel Sexy Confidence, my content is based around life coaching and Q&A videos.
If you want to start a successful YouTube channel, you need to use your understanding of your target audience to determine what solutions you can provide, and in which video forms.
Once you have defined your audience, identified their needs, and established how you could fill that need through video, we can move on to learning how to make a successful YouTube video.
Produce your videos
Building a loyal audience on YouTube requires you to create the videos that people actually want to watch. Videos that fill a need, videos that are valuable to your viewers. But how do you make successful YouTube videos when you are just getting started?
In order to make YouTube videos that will attract an engaged audience, there are three things you must know: your purpose, your setup, and your brand.
Know your purpose
As a YouTube content creator, everything you do should be guided by the pursuit to do better than what's already out there.
Before you go out and buy a camera, and before you start perfecting your on-screen delivery, you should be immersing yourself in YouTube culture. Whether you want to entertain, educate, or show people what your business can do, the key to learning how to start a successful YouTube channel is finding an open opportunity to produce videos that are greater than the competition.
Understanding your purpose will shape how you make your YouTube videos. Be aware of top channels and popular videos in your industry. What makes them different and desirable to audiences? And what unique angle can you take to create videos that are even better?
Know your setup
What do you need to start a YouTube channel? First thing's first: quality is important. High-quality videos will make your channel appear more professional. That means having decent lighting, clear audio, sharp footage — you want to create a great viewing experience for your audience.
But "high-quality" doesn't mean you need to rush out and buy the most expensive camera. In fact, most iPhones and Androids can now produce good quality videos at the press of a button. You may find this sufficient for your long-term needs, or until you are able to invest in a video camera later on.
Here are some tips for your video setup:
Set your camera on a tripod or stable surface to obtain professional image stabilization. Don't make your viewers queasy with shaky, blurry footage!

A good microphone is one of the best investments when making YouTube videos. The microphone in your phone or computer may be adequate, but a studio mic or lavalier will allow you to capture crystal-clear audio.

Find some simple video editing software to enhance your content. When shooting your footage, you may find it reassuring to know that any long pauses, note-checking or fumbled sentences can be edited out later.

Use a clean, non-distracting background. A professional studio backdrop or coloured screen will keep the focus on you, while an office setting, a tidy bookshelf or a similar background may help to set the mood.
The most important thing is to find an easy way to be able to create content consistently. I've done a rundown of the advantages and disadvantages of different video equipment choices in my other blog post. Check it out here.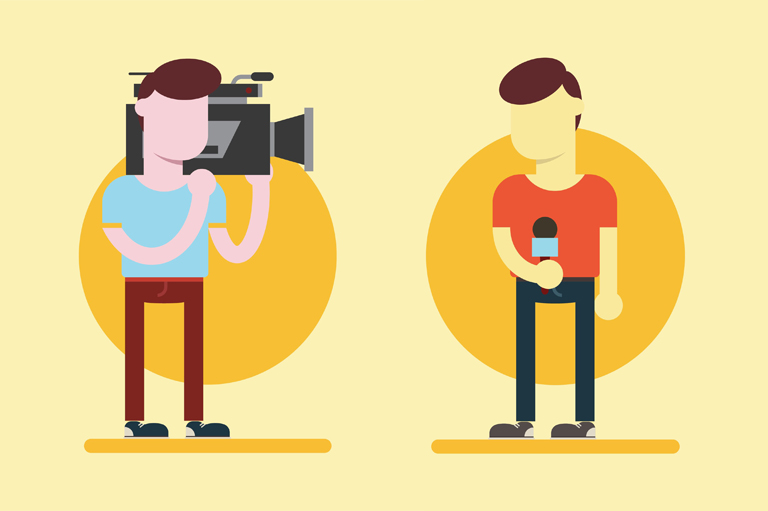 Know your brand
A good understanding of your business's brand identity will help you start a successful YouTube channel. As mentioned before, making great videos means being different on a very crowded platform. Work hard to establish your brand, and make it recognizable across your channel.
Many different elements in your videos can help to communicate your brand. Think about the effect of the backdrop, the lighting, the way you dress, and the way you speak to your viewers. What about your editing style — have you included a branded title card? Are you the face of your brand? Is your brand active, bright and energetic? Or is it calming, authoritative and knowledgeable?
But how will knowing your brand help you to start a successful YouTube channel? It's simple. Your branding should guide all of your business marketing, and that includes making YouTube videos. A strong brand will provide direction for your video marketing. And, over time, you will be able to use it to make a name for yourself on YouTube. Know your brand and give your audience something to rally behind as you grow your channel.
Optimize your videos
The next step of learning how to start a successful YouTube channel is optimizing your content so that it ranks in search engines.
Even if you've done all the right things — researched your audience, refined your brand, and made a video you know your viewers will love — it will all come to naught if people can't find your content online. By utilizing some key YouTube SEO tactics, we can ideally get your videos to rank at the top of YouTube searches and Google results. This makes them much more accessible and will help drive views to your content.
The two main steps to optimizing your videos are:
Keyword optimization
Start your YouTube SEO process by thoroughly researching potential keywords for your videos. Online tools like Google AdWords Keyword Planner, Google Trends, SEMrush, and Vid IQ will be very useful during this stage.
The goal of keyword research is to put yourself in your viewer's shoes and figure out what words and phrases they might use when looking for content like yours. When brainstorming keyword ideas, begin with broad topics (such as "digital marketing"), but then branch into more specific phrases and long-tail keywords (like "digital marketing techniques for small business" or "using Facebook in your digital marketing strategy").
Keyword optimization will allow your videos to tap into less competitive topic areas and be found by niche communities. Your keywords will not only provide direction for the subject matter of your videos, but will also play an important role in optimizing your video information.
Video information
The information you provide in the title, tags, and description of your videos will help YouTube determine whether or not your content is relevant to a search. By including optimized details and keywords in these three areas, you can help to improve the visibility and ranking of your videos.
Title
Your keywords should take pride of place in the title of your video. When done well, the title should capture the attention of your viewers, while also making clear the topic and purpose of the video. When writing video titles, remember to be:
Concise

— keep titles around

60 characters in length

.

Compelling

— write a title that expresses the inherent value of your video.

Clear

— Prioritize keywords at the beginning of the title. Don't resort to cheap,

clickbaity

tricks or keyword stuffing.
An optimized title could be the thing that gets a viewer to choose your video over other options. Take some time to brainstorm a title that will show your audience exactly why they should watch your content.
Tags
Tags will let viewers (and YouTube) know what your video is about. Use a mix of broad, specific and long-tail keywords to improve video ranking and visibility. In other words, tags like "fitness" and "how to create a workout plan" can each be useful in clarifying the content and context of your video.
Check out the tags that feature on top ranked videos for the same topic. You may be able to broaden the reach of your content by using similar tags.
Description
While titles and tags are important for video ranking, the description is the main source of information for YouTube's search algorithm. Writing keyword-rich descriptions is an essential step in your journey to start a successful YouTube channel. Here are some tips about how to write a great YouTube video description:
Video descriptions can be up to

5000 characters in length

, but you don't have to write a novel. I recommend writing a description of around 200 words, so you can include a variety of keywords without resorting to

keyword stuffing

.

The description will be truncated to a "See more" button after the first 100-200 characters. So be sure to include primary keywords, CTAs (calls to action) and other important information in the first few lines.

Not sure what to write? A video transcript can be a good idea.

Write information-rich content that uses primary, secondary and long tail keywords only where relevant. Identify your main keyword (e.g. "how to start a successful YouTube channel") and include it at the beginning and the end of your video description.
I've got a complete blog post about YouTube SEO and how to rank YouTube videos. Learn more here.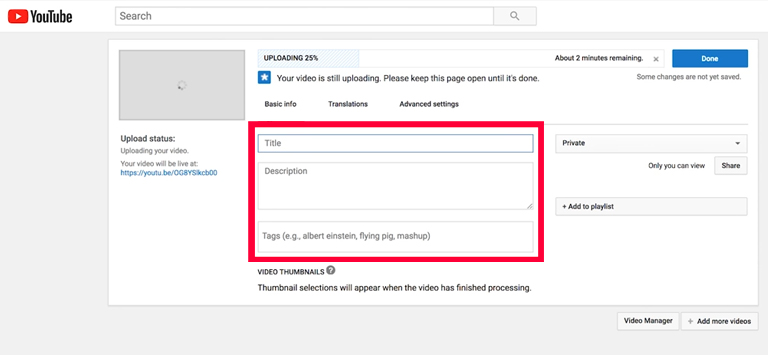 Review your analytics
A big part of achieving success on YouTube is reviewing the analytics of your channel and making necessary changes.
The Analytics section in your Creator Studio has a lot of crucial data about how viewers are interacting with your content. Here are a few key areas to keep an eye on:
Retention rate
The audience retention rate refers to how much of the video your viewers are watching. So if the majority of people watch five minutes of your ten-minute video, your retention rate would be 50 percent. The ultimate goal, of course, is to get as close to 100 percent retention as we can!
Retention rate is a big deal if you want to start a successful YouTube channel. YouTube "rewards engaging videos that keep viewers watching", so you should absolutely engage in good practices for improving audience retention. Some of these include having a compelling hook in the first 15 seconds, using interesting graphics or images where relevant, and (of course) checking Analytics to discover where and why viewers may be leaving your video before the end.
Watch time
Watch time is the total amount of time being spent watching your videos. As far as YouTube is concerned, if a video is being watched a lot, it must be pretty great. Promoting your channel is a useful way to improve views and watch time (and I'll tell you how to do that in the next step).
You can also improve watch time by encouraging continued viewing of your content. You could do this by creating playlists (which automatically play the next video), using cards to promote other content, or adding links to videos in your description.
Engagement levels
User engagement levels are all about how people are interacting with your videos. Check out the "interaction reports" in your YouTube Analytics. Here you can find critical information about your content, including:
Number of subscribers — are people subscribing after watching a particular video? Consider why this video is so successfully eliciting action from viewers.

Video likes and dislikes — the thumbs up/down bar on your video can be a visual representation of how well your video is being received.

Number of comments received — a lot of comments could be a good thing or a bad thing. Always check the comments and engage with your audience by replying and taking suggestions on board.
If you want to start a successful YouTube channel, you need to check YouTube Analytics on a regular basis. The information found there will be a big contributor to your growth and success. Monitor your efforts to learn what you're doing right and where there may be room for improvement.
Promote your channel
When you are first starting out on YouTube, the more attention you can bring to your channel, the better! Integrate your channel across YouTube and on external locations to showcase your content. Here are four expert-proven methods to promote your YouTube channel like a pro:
Cross-promote with other YouTubers
Combine your expertise with other content creators in your industry to cross-promote your videos. When done right, engaging, collaborating, and networking with other YouTubers can expose your channel to new audience and improve the visibility of your brand.
If you have earned a decent reputation in your niche, you may be able to guest-star on another channel, or partner with other content creators to cross-pollinate your audiences. This is something that I do with Neil Patel in our weekly Q&A video series. Like all good collaborations, it is a win-win scenario wherein we can gain exposure to each other's niche and attract new subscribers.
Try searching for primary keywords in your niche, and check out the different YouTubers who appear on the first page. Make a note of channels that have a decent number of subscribers and strong engagement on their videos. Email a pitch about creating a video for or with them, and try and access some guest opportunities!
You could also interview popular YouTubers, or make a video about their brand or message. Videos that feature notable influencers, critique their opinion, give a shout-out, or in some way respond to their brand have a good chance of ranking higher. That's because your videos may appear in YouTube or Google results when people search for that YouTuber.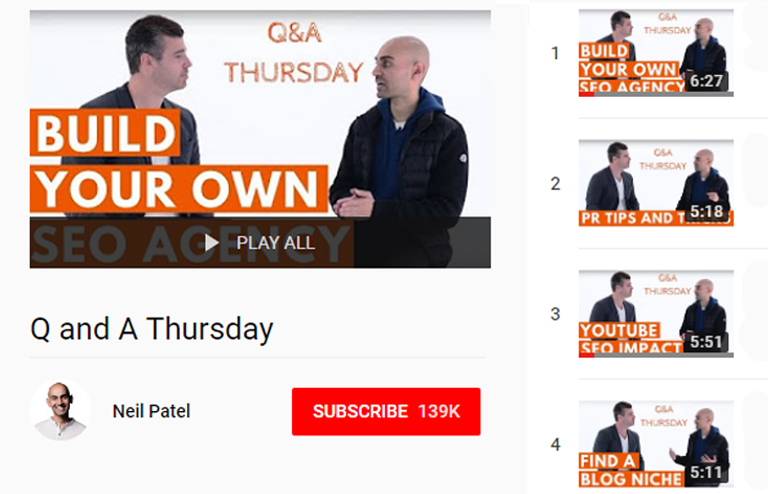 Take advantage of email marketing
If you want to know how to start a successful YouTube channel and get your videos noticed, you can't go past email marketing. Promoting your videos to an email list will allow you to directly and personally connect with your subscribers.
Don't have a substantial email subscriber base yet? Encourage people to sign up with CTAs in your YouTube videos, website, and social media. Try offering an incentive to compel people to join your email list. This could include free downloads, contests or giveaways, exclusive content available only to email subscribers, and so on. Then send an email each time you upload a video.
If your business already has an email list, send out an email as soon as possible after uploading new content to boost your views and reach a wider audience.
Better yet — create a blog post that includes your embedded YouTube video. This way you can gain more views as well as extra web traffic. Your subscribers can choose whether to watch your video, read your article, or both!
Promote your content on social media networks
Promote your videos on a variety of social media platforms to create social signals for your videos. Ideally, your brand will already have a presence on websites like Facebook, Twitter, LinkedIn, Instagram and so on. By sharing new videos on these networks, you can make your content more accessible and grow your YouTube audience.
To start a successful YouTube channel and maintain it into the future, you need to work those social platforms. You could simply upload the video link, or create custom posts and teaser videos to promote your content with greater interactivity. Use a bit of creativity and talent to attract attention across multiple platforms without spamming your content.
You could also share your content through social bookmarking sites like StumbleUpon or PearlTrees to help increase views and ranking for your videos.
Invest in YouTube advertising
One final means of promoting your channel is through YouTube advertising. YouTube allows businesses to buy ads to promote their videos to targeted audience demographics.
Some content creators may have reservations about spending money to advertise their content; however, YouTube ads can be a great way to promote your videos and compel viewers to subscribe, visit your website, share your content, or make a purchase.
With a Google AdWords campaign, you could strengthen your video marketing, grow your channel, and get your videos seen by more people. This is especially true for new channels that don't yet have a large subscriber base to rely on. And the best part is that you can set your own budget.
View my complete guide to YouTube advertising.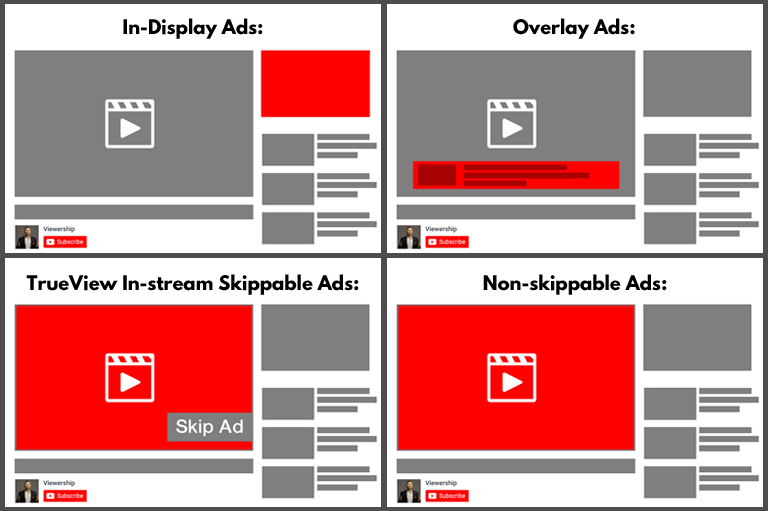 Grow your business
By this point, you should have an idea about how to start a successful YouTube channel and get your videos noticed. As your audience grows, your views will increase and your channel will become stronger. But remember, success on YouTube isn't just about growing your viewership — it's about creating stability for your business.
We want to use your YouTube success to increase your business's sales and build your brand. That's where CTAs come into play.
CTAs (calls-to-action) are the ways that you ask your audience to do something. On YouTube, your main CTAs will likely involve getting your viewers to subscribe to the channel, watch your other videos, engage with your channel (by liking, leaving a comment, providing feedback, and asking questions), or connect with your business.
Use clear CTAs
There are many different ways to include CTAs on your channel. Try experimenting with different types to see what gets the best results from your audience:
Add

cards and end-screens

to your videos to promote your website, business, products or services. You can also provide viewers with other videos or playlists, and shout out for subscriptions.

As mentioned previously, the video description is an ideal location for CTAs. Try adding CTAs at the beginning and end of your description. These could be reminders to subscribe, links to your website, online store, social media or related videos, requests for audience participation (e.g. "what would you like me to cover in my next video?").

The video description is also a good place to include a link to a landing page to capture email addresses. Remember, email marketing is a powerful way to get your videos seen, so start building that email list now!

Spare a few seconds at the end of each video for a verbal CTA. Most popular YouTubers end with a simple message thanking viewers for watching, and asking that they subscribe for more videos.
Never underestimate the importance of clear CTAs. Studies have shown that, when compared with having zero CTAs, channels with clear calls-to-action were 31 times more effective in converting viewers to subscribers. Whether you want people to subscribe, visit your site, or engage with your brand, using CTAs will guide your followers to their next action and help to grow your business.
Engage with your audience
YouTube is a social platform. Be sure to give your audience the sense that they are a valued part of your community. There are many different ways that you can interact and engage with your YouTube audience:
Encourage video comments by directly asking questions or requesting feedback from your viewers. Find out what your viewers liked about the video, what they need help with, what their personal experiences have been with regard to the subject matter, and so on.

You might like to create a special name for your audience (like my following of "sexy single ladies" on Sexy Confidence). This can create a fun and unique sense of inclusion for your viewers. The best names will come naturally, so don't force it.

Subscribe to other relevant channels

and leave comments to show that you are an active presence on YouTube.

Ask viewers to leave suggestions for content they would like to see. Creating content as a direct response to your viewers' needs will show them that you value their input.

Similarly, create Q&A videos to establish two-way communication between your audience and your brand. Show that you are aware of (and grateful for) your viewers. Plus, this could allow your viewers to learn more about you, too!
If you want to start a successful YouTube channel, you should be encouraging community engagement and getting to know your subscribers from the very beginning. Engage with your audience, no matter the size, and inspire a more passionate viewership for your channel.
Be patient
If you take away only one thing from this article about how to start a successful YouTube channel, make it this golden rule: be patient.
You can use many different tips for starting a YouTube channel, but success is something that takes time. Don't give up if your first few videos go unnoticed. Don't let a negative comment discourage you. Keep working hard to create and promote engaging videos that attract views and motivate your audience to stick around.
YouTube marketing is an ongoing pursuit with multiple benefits for your business. You can't expect to succeed overnight — but you can expect to see results if you are willing to persevere with the right YouTube tactics.
Conclusion
Starting a YouTube channel could be one of the best decisions you'll ever make for your business. With patience, hard work, and a few good tactics thrown in, you can use YouTube to build your business and unlock incredible marketing opportunities.
I've given you the complete guide to starting a great YouTube channel, including getting to know your audience, how to produce quality videos, how to optimize your channel, and how to turn your YouTube success into growth for your business. Now it's up to you to take the plunge and get started!
Want to learn even more tips about how to start a successful YouTube channel? Check out my free online seminar! I'll show you how to grow your business and make money on YouTube with heaps of expert techniques and training.
Is it your dream to start a successful YouTube channel? Not sure if it's the right choice for your business? Drop me a comment and share your thoughts!