Whether you want to make some passive income or build a sustainable business, YouTube is a great place to make some real money. But before you can start earning, you need to know how YouTube pays.
Can you make significant cash with YouTube? Definitely. Are you going to generate a reliable income from your first few videos? Nope. If you're looking to grow your brand and make money on YouTube, you'll have to be dedicated.
In the past, I've met people who think they can upload a few YouTube videos, turn ads on, and enjoy the revenue. This simply isn't true. Instead, I'm going to show you 11 different ways to leverage YouTube and start making money from your videos.
Let's create a valuable, profitable YouTube channel and discover how YouTube pays you for your efforts!
How YouTube Pays: 11 ways to make money from your YouTube videos
1. Build your viewership first
If your only goal when starting a YouTube channel is to make money, you are setting yourself up for failure. Becoming successful on YouTube is all about passion. The best channels are run by people who love what they do, do what they love, and continuously bring value to their viewers.
There is excellent potential to make money on YouTube. And it's okay to want to be compensated for the videos you create. But before you can monetize your channel, you must become a YouTuber worth subscribing to.
Two things: a consistent stream of high-quality videos, and a loyal, engaged viewership. Those are the key ingredients for how YouTube pays you. Before you start to earn money with your content, you first must grow an audience and build your brand.
Tips to help you build a YouTube audience:
Find your niche

— Stick to your passions and create content for a niche community. Viewers will be more drawn to a channel that shows authentic enthusiasm for its content.

Define your audience

— It is essential that you know who you want to target with your videos. Create

customer personas

, identify what your audience wants from you, and start discovering how you can give it to them in a way that no one else can.

Engage with the audience

— Be an active presence on YouTube. Don't just make videos; reply to viewers, pin your favorite comments, ask for video suggestions, and produce the content your viewers want to see.

Optimize your videos

— Make sure your potential viewers can easily find your videos in search results. That means using

good SEO tactics

in the title, description and tags, creating eye-catching thumbnails, and optimizing your channel.

Check your analytics

— Be sure to monitor the performance of your videos. You can gain a better understanding about who is watching your videos (including gender, age, and where they're watching from). But you can also use your

YouTube analytics

to identify which videos are resonating with viewers. Replicate your successes, make necessary changes, and continually improve the quality of your content.
Check out my other blog post for heaps more advice about gaining a loyal YouTube following. Keep growing that audience — you're going to need at least 1000 subscribers for step 2!
2. Turn on AdSense
Many YouTube creators will agree that you should apply to join the YouTube Partners Program as soon as you can. The YPP allows you to monetize your video content and earn money from advertisements. This is perhaps the most fundamental step for how YouTube pays you.
The YPP is available in most countries. However, your channel must first meet two requirements. You need to have 1000 subscribers, and you need to have 4000 watch hours from the past 12 months. Once your reach this program threshold, you can enable monetization and turn on AdSense.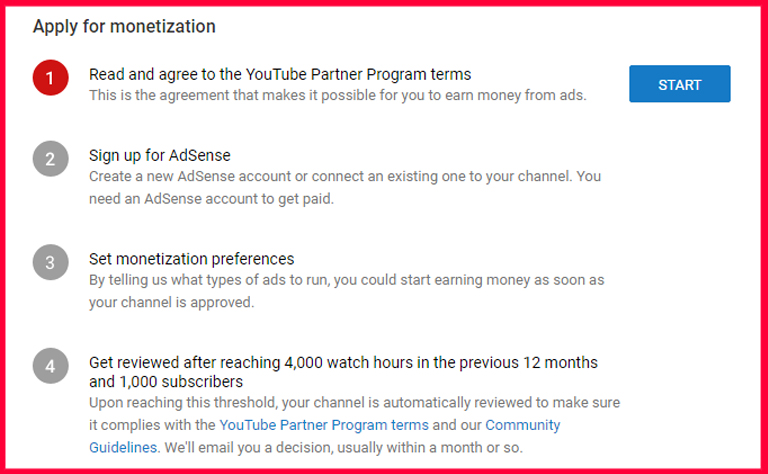 How to enable monetization on YouTube:
Sign in to your YouTube account.

Click your account icon in the top right.

Click

Creator Studio

.

In the left menu, select

Channel > Status and features

.

Click

Enable

in the Monetization section.

Follow the on-screen instructions to accept the Terms of the YPP.
You will then need to create a Google AdSense account. Your AdSense account is how you will earn money from your videos. You will able to choose different types of ads, block ads you don't like, customize where they appear, and automatically make money when ads are seen or clicked.
There are many different ways for how YouTube pays you, which this article will explore. But I definitely recommend you turn on AdSense as soon as you are eligible. It may not bring in a vast amount of wealth, but if you can get paid from YouTube — and essentially get free money — why wouldn't you do it? AdSense is an easy way to start making money from the videos you are already creating. Plus, as your audience becomes larger and your content base increases, so too will your ad revenue.
3. Direct viewers to your website
You know how YouTube pays through the platform itself. But have you considered how your videos could also improve the performance of your website? Use YouTube to drive traffic to your site, blog posts, or social media. This is a great way to get more clicks, boost sales, and improve conversion rates.
Additionally, you can use YouTube to promote products that you sell on your website or a third-party merchandise site — more on that later.
Prioritize your website in the video description. Provide a site link in the first few lines so you can funnel your YouTube traffic to where it needs to go. Make sure your audience can easily find and access your website through your YouTube channel. Try adding website links to your channel description, channel art banner, and in end-screens of each video you upload.
Strong CTAs (calls to action) are your friend. For instance, the Viewership channel banner doesn't merely show a URL. Instead, it shares a compelling benefit for viewers: Become internet famous. In other words, it explicitly communicates the value of the website to encourage those click-throughs.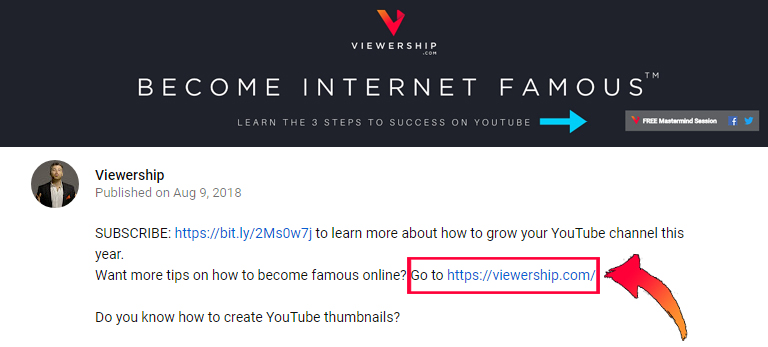 4. Offer upgraded content or services
Next, let's think about how YouTube pays you for your content. As I said before: the best way to make money with YouTube is by creating valuable content. That's what keeps your viewers coming back for more.
But as your audience and brand grows, you can start to pitch content that you provide outside of YouTube. Think upgraded services, downloadable products, premium videos, coaching services — content that people must purchase to access.
Online seminars, courses, and consulting services can also be a lucrative income stream. In fact, they are the primary way my business makes money.
Your channel is a source of free information. That's free value! You want to build your viewership and satisfy their viewing needs. But you can also provide opportunities for additional knowledge and expertise. Ultimately, you want your viewers to think, "If I get this kind of valuable content for free, the upgraded content must be amazing!".
For instance, an interior design company could post a video with five redecorating tips for the kitchen. This video appeals to the audience, but also leaves them wanting more. Good news — there is more! The company uses the video to promote their renovation services, or advertise their new design book, or incite interest in their new line of decorative products, and so on. With YouTube, they can drive sales and get their business noticed.
5. Sell your own products
Similar to how YouTube pays you through your courses and online content, you can also use your channel to sell branded merchandise and other physical products. This could include hats, clothing, stationery, coffee mugs, stickers, magnets, bags and many other money-making commodities.
Using an eCommerce platform such as Shopify or Etsy will allow you to create an online store quickly. Then you can use YouTube to promote your merchandise and make more sales. Add links in your video description, or include a verbal CTA in the video itself to direct traffic to your product landing pages.
Go a step further — create a short video specifically for your merchandise. Dollar Shave Club is an impressive example. CEO Michael Dubin's strategically used the platform to share a comedic video about their blades. The video went viral, and within 48 hours more than 12,000 people had subscribed to the Dollar Shave Club. Check it out:
Selling products through YouTube is not only a great way to make money, but will also increase your brand exposure. If you want to sell branded products (for example, t-shirts), you could look into hiring a freelance designer. Otherwise, you could manufacture and sell your own unique products to take your business to the next level.
6. Publish an eBook
Similar to how YouTube pays you as a promotional platform for products, you can use your channel to promote and sell an eBook.
Writing a book is an ideal money-maker for YouTubers whose channels center around education. How-to demonstrations, step-by-step tutorials, cooking videos, fitness regimes, life coaching, skill-building videos — educational channels on YouTube come in many forms. Even comedic anecdotes or opinion pieces could become perfect fodder for a book.
Your subscribers are clearly already interested in your content. Sharing your expertise in a different medium can be a great way to make extra money and grow your brand. Many YouTubers have written books — including me! I've written several books for my other channel Sexy Confidence, and loved every minute of it.
Your existing blog posts could be a helpful starting point for a book. Otherwise, you can look into hiring a freelance writer through websites like ProBlogger or Upwork. Plus, an independent publisher like CreateSpace will make it easy to self-publish your book with minimal fuss. If you've got knowledge to share, I encourage you to consider writing a book. Think outside the box and discover how YouTube pays you for your expertise.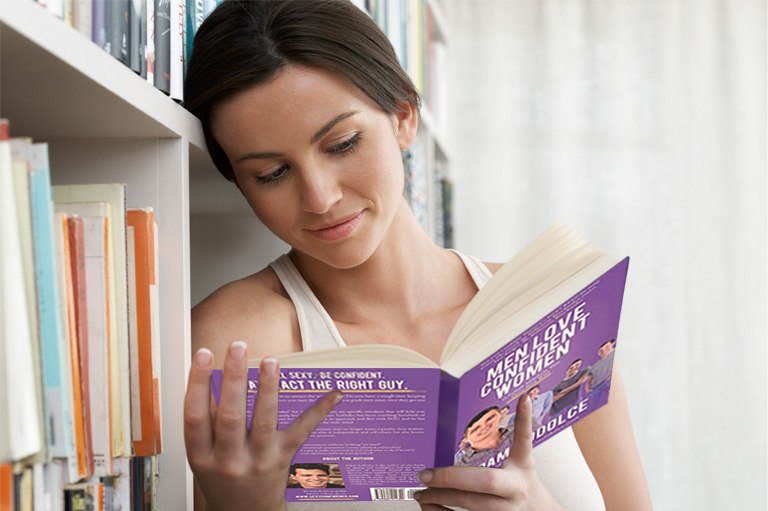 7. Use crowdfunding
But what if you don't have a business? What if you don't have products to sell or services to offer? Another great way to make money with YouTube is through crowdfunding.
Crowdfunding websites like Patreon allow artists and content creators to earn a sustainable income. Fans can elect to support you and your channel through a membership subscription. This means they pay you an amount of their choosing (per month or per video) to help fund your content.
In exchange, creators can offer exclusive experiences and behind-the-scenes content to thank their patrons. I suggest offering these special perks on a tiered level to adequately reward your biggest supporters. For example, a fan who pays $1 per video could receive early access to your next upload. Meanwhile, you could invite your top patrons to a live group chat once a month to hang out in person.
Crowdfunding will not only allow your viewership to connect with you, but also generate reliable, ongoing income. Learn more about becoming a Patreon creator here.
8. Become an affiliate marketer
Affiliate marketing is a profitable tactic in which you promote and sell somebody else's product. You take a commission for every sale made through a unique affiliate URL that is linked to your account.
All you need to do is produce a video that shows off some product that you love. Tell viewers to click the link if they are interested, and take a small percentage from every purchase. So for instance, someone with a fitness channel could promote a pair of running shoes. A beauty vlogger could be an affiliate marketer for a variety of makeup products. Be sure to support products that are relevant to your niche, and that you are genuinely excited to share.
If you're already creating how-to tutorials, reviews or other videos that feature products, look into affiliate marketing. You can stand to make some substantial income with minimal extra effort. Plus, you may be able to improve your rankings in association with the affiliate brand, and increase traffic to your videos.
Many companies have an affiliate program. One of the most popular programs is Amazon Associates. The eBay Partner Network and Target Affiliates are also prominent options.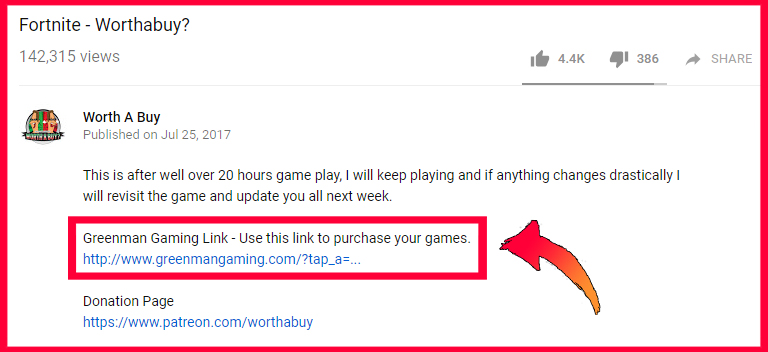 9. Attract sponsorships
As your channel grows, you may find your brand becoming an attractive target for sponsorship deals. Essentially, a sponsor will pay you to give their business, brand, website or products a shoutout in your videos.
While there are many gainful ways to discover how YouTube pays you for your videos, sponsorships are undoubtedly one of the best opportunities to make money from your channel. Unlike affiliate marketing (which works on a per-click or reach basis), creating sponsored videos results in immediate payment for your efforts. This payment could range from free products to cash in your bank; you will need to discuss your rates with your sponsor.
You should think carefully before accepting a sponsorship deal — does the company align with your brand and subject matter? Nonetheless, enjoy the satisfaction that comes with being approached for a deal. It's a good sign that your channel is growing and attracting positive attention!
Don't want to sit around and wait for those sponsorship deals? You could always seek out paid sponsorships through influencer marketing websites like Famebit. Here you can choose your own sponsors and get paid for collaborating with a vast variety of brands.
And the best part about sponsorships is you don't have to give YouTube a cut of the profits.
10. Seek speaking opportunities
You know how YouTube pays through its own platform and other online avenues. But as your channel grows, you may be able to leverage your YouTube reputation for external events.
Live conferences, presentations, and speaking engagements can be very lucrative opportunities for a YouTuber. Of course, you will need to have become, to some degree, a respected authority in your niche. Work hard to establish your channel as an industry expert. Then research annual conferences or other industry events related to your audience or subject matter. Do they have keynote speakers? Maybe you could be one of them!
It is vital that you put together a proposal that highlights your successes in your field. Utilize your YouTube analytics, clips from your most popular videos, and other influential information to appeal to the directors of these live speaking engagements.
Similarly, you may be able to access speaking opportunities in your local area. Perhaps there is a school that could use your IT knowledge, or a business seeking a team-building seminar, or a weekend event in need of entertainers. Always keep an eye out for unique chances to grow your audience!
11. Keep working at it
When you get a new job, you've got to work hard and climb the corporate ladder to start making the big bucks. It's just like how YouTube pays. In order to make money on YouTube, you must be willing to invest time, effort and resources into your channel.
Try to keep yourself motivated by setting goals. For instance, start directing people to your website from the moment you launch your channel. Once you get 500 subscribers, create a Patreon account. At 4000 watch hours, turn on AdSense. After you've uploaded 50 videos, begin compiling material for a book. Create a marketing strategy to support the growth of your channel.
And most importantly, don't become discouraged. Nobody makes their fortune on YouTube by posting one video. Create consistent, high-quality content, connect with your audience, and utilize a variety of money-making tactics to get the most out of your YouTube efforts.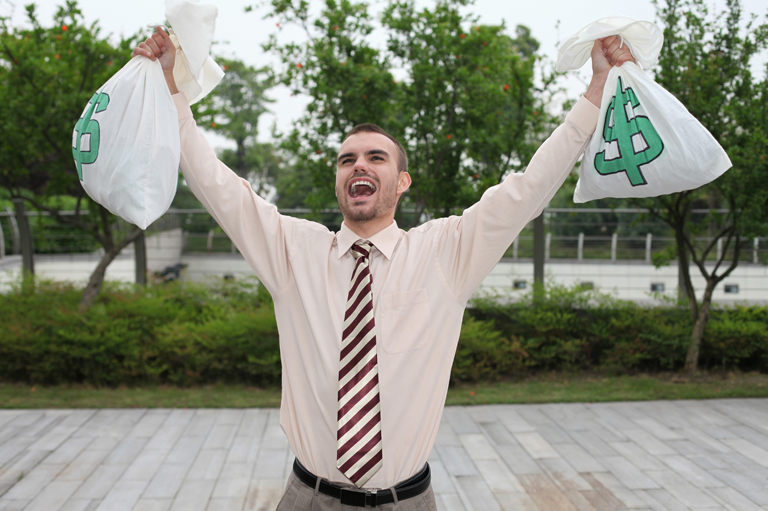 Some final technical tips about monetization:
If you wish, you can change your

upload defaults

to monetize all future videos automatically. Don't miss a single revenue opportunity!

If you'd prefer to monetize only a few of your existing videos, opt for your most popular videos with high watch times and engagement.

Be aware that monetization is only available to countries where YouTube has launched a monetized website.

Check if your country is eligible.

Videos that contain copyright music will not be eligible for monetization. Use original or royalty-free music to avoid copyright violations.

Videos that depict violence and/or nudity will not be eligible for monetization.

Compilation videos made from content created by others will not be eligible for monetization.
Conclusion
Whether you want to make a bit of cash creating hobby videos, or you're determined to turn your channel into a sustainable business, YouTube provides many money-making opportunities for successful videos.
Keep exploring new ways for how YouTube pays you, both on and off the platform. Leverage different income streams, and you can absolutely turn your videos into cash, especially if the video goes viral.
I've turned YouTube into a paid profession. You can too! Get in touch with Viewership to start growing your channel with us.
Have you tried any of these ways to make money on YouTube? Got some tips of your own? Let me hear from you in the comments below!